Your Pet Loss Stories'Story of a Playful Guinea Pig, Zorro'
by Kyprianos Stefanou
(Cyprus)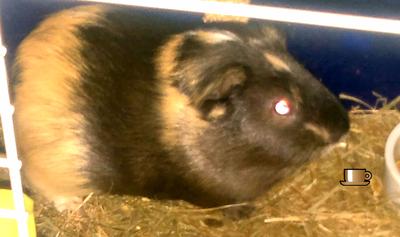 This is the story of a small guinea pig, called Zorro, a unique story of a unique small furry friend. It all started 3 years ago, while I was searching for a pet guinea pig. I wanted to have a guinea pig all my life, now it was the moment to have one. So I went to a well known pet shop in Larnaca and asked for a male guinea pig. They didn't have one at that moment, and the lady at the pet shop told me she spoke with her boss and they will bring me one.

After one week, the guinea pig was not there... another week to come and the guinea pig still not there... after 4 weeks I lost hope, and I asked another pet shop. They told me they don't have a guinea pig, but they gave me the number of a boy who was supplying them from time to time.

Next day I called Andreas and he told me he has one for me, and he invited me over. That how I bought Spartakos, who was a spoiled guinea pig from the moment I met him :)

Next day – surprise! I got a phone call from the pet shop announcing me that they finally found one for me. On the spot, I told them that I already have one, a bit late for the offer, but when I got to the pet shop and when I saw Zorro for the first time, striving for food, and fighting for it with dwarf rabbits, I was touched. And this is how I decided to buy Zorro, on the spot. So I took the valiant guinea pig home with me.

At the beginning they were getting along really well, Zorro and Spartakos, but as he grew up, they started to fight, both males, they were fighting to show their dominance. Not too much but still.

Then they were playing together less often, but Zorro started to play with me soon and he was a delight. Such a nice character, playful, always ready to do something funny and always pop-corning.

He was a very happy guinea pig with a playful and cheeky character. Jumping on me and after on the sofa, and back on me and down, he enjoyed all the freedom he could imagine.

Then he was in a big wooden house I made especially for them, my furry friends. In time, he was generally a healthy guinea pig, but had some giardia history. Lately, when he wanted to get "out" of the wooden house he was coming at the edge and getting his head out, pushing the door with his head. And then he was getting out and playing. When he felt he didn't get enough attention from me, he was slightly pinching me from my ear, just to say: "Come on, play with me more!"

After 3 years of happiness, just when I was planning for him to have kids, suddenly he became very ill on Friday afternoon, his eyes were leaking, like in tears. I took him to the vet in Nicosia, apparently the best one on the island, specialized in exotic pets. On the way to Nicosia, I felt I was fading away. I understood he was seriously ill, and I was praying God to take years of my life but let him live, I was petting him, caressing his fur, to comfort him, talking to him.

When I got there the vet put him in an incubator, to raise his body temperature, with a perfusion. He started the tests, and told me I can still stay and watch him 5 minutes in the incubator, when he was still asleep, I had a strange feeling that it was the last time I saw him alive.

I left hoping he is going to get better in the clinic. The same evening I called the vet, he told me he had woken up and was kind of ok. Next morning, 7 o'clock I got an sms, and I knew before I read it what was about. Unfortunately my best friend didn't make it, and he passed away. I felt guilty I was not there to hold him when he passed away, to hold him and comfort him, and I am still feeling guilty about that.

However, I went to Nicosia, I spoke to the vet, apparently he died because of a bacterial gram-negative infection, most probably bordetella. I feel I did my best, at that time, to save him, and though, I still feel feel guilty for his death... maybe it wasn't bordetella???

Now I feel very much alone in this world, my only friend is gone, and I feel like my soul is empty. When I was giving him a proper funeral, I felt I was burying my heart alongside with him. It's a feeling that words cannot describe, actually I believe there are no words in the 7 languages that I speak to express what I feel. If I had been already feeling alone before that happened, after his sudden death, it became even worse.

If there is such thing as guinea pig heaven, I am SURE he is there, watching over me and running around on the huge grass fields, eating and playing with other guinea pigs. I hope I offered him a better life, the best one I could. The hardest thing is the break up, the fact that I am never going to see him again, and I am never going to play with him again, or kiss him again.

This is the story of Zorro, and I wish it would stay here for eternity, he will be in my heart for as long as I live, for me he did not die... he still lives in my heart.