Your Pet Loss Stories'Tara Puppy Girl'
by Beth Howard
(Lake Havasu City AZ)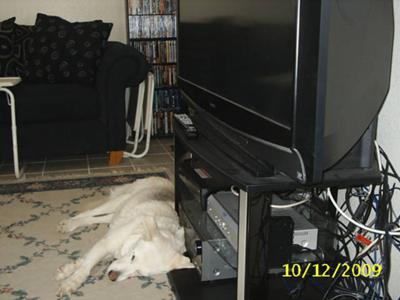 Taras Favorite Spot
Tara was a German Shepherd/Husky min. She was the fourth puppy born of a six puppy litter all of the rest black and tan as sherpherds are. When she was born, I asked her mother, Scarlett, "Now, Scarlett, where did this white puppy come from?" She immediately captured my heart and for the next seventeen and a half years was my constant companion.

Three weeks ago we took her to the vet for a check up. The next day, we received a voice mail from the vet who could not believe a dog her age was so healthy. Six hours, she slipped quietly away while we watched TV. I went to pet her good night and she was gone.

She had passed away on a Friday night, giving me one final gift: she gave Saturday and Sunday to try to come to terms with losing her before I had to go back to work. I cry a little less every day but cannot wait until we meet again over the Rainbow Bridge.
Click here to read or post comments
Join in and write your own page! It's easy to do. How? Simply click here to return to Your Pet Loss Stories - Dog Stories - S - U.