Your Pet Loss Stories'The Day Our Little White Angel Passed Away'
by Jessica Tena
(Mexico)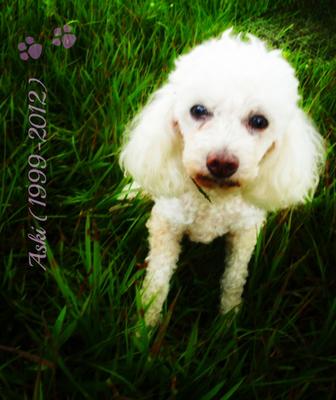 Our gorgeous girl
My dog just passed away a couple of hours ago. She was a 13 year old poodle called Sisy and that I often called Aski.

She had been with me since 1999, I got her as a gift from my parents when I finished kindergarden, she was always a really nice dog, very obedient, calm, loving, caring and extremely attached to us.

She would always make happy noises when any of us came home like greeting us, and cried if we happened to leave her alone at home. She used to love to eat chicken (chicken livers specially) also chocolates, nuts and mozarella cheese.

She never had puppies, even when we put her around male dogs several times she always refused to mate with them. I never knew of a dog like mine before, she was unique and amazing. She was always very active and loved to go outdoors, but also enjoyed to sit on the couch and watch movies with us; she was never aggressive never hurt anyone.

The past days, she stopped eating. She was always tired, out of energy, sad and very calm. All she did everyday was sleeping and drinking water to puke it after a while.

We took her to the vet, he said she had an infection in the stomach, gave her some injections and gave us a few more but she never got well, so I doubt she really had that infection, she just got worse everyday. She was suffering much.

Then today she had been just shaking and moaning, we put her on her bed to sleep. Later in the afternoon, my brother's girlfriend saw she wasn't breathing anymore. My brother let me know immediately, I broke in tears, I was extremely affected. I held her head and saw her open eyes. I started to cry really bad and it didn't stop until we buried her.

Although my boyfriend was with me all the time, I felt no one understood how I was feeling, I was destroyed, and all I had in mind is that I would never see my dog again and that I would miss her so much.

Tomorrow's gonna be the first day without my dog, I know it will feel terrible but she didn't deserve to suffer any longer.

I'll probably never know what was the real cause of her death, but I don't think that really matters anymore. We loved this dog with all our hearts and we tried to give her the best we could. She made us very happy and we really enjoyed these 13 years with her. If I had her here alive with me, I'd thank her for everything she brought to our lives.

The grief of her loss may remain for many days and weeks but the memories and the good times she gave us will remain forever in our hearts.