Your Pet Loss Stories'The Rescuing of Me by Little Dog'
by Connie Collum
(Stockbridge, GA USA)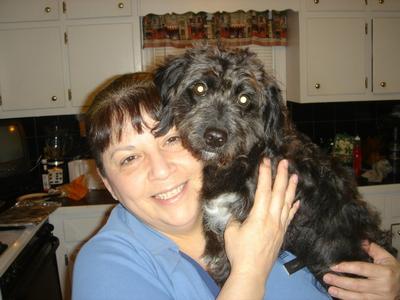 I moved to Atlanta in 2008, embarking on a scary, new life alone without family. After about a year of being here, I was asked if I wanted a dog. I replied that I couldn't because the landlord said no pets. I was asked if I could at least look at the dog. Always being a cat person, I was hesitant but agreed to meeting the dog.

As we pulled up in the yard, here comes running this little black bundle of energy, jumped in my arms and never left. Well, my heart had been stolen and I told Little Dog (as would be his nickname) to get in the car, we were going home. A family had moved and left behind this precious pup and never came back to get him until 6 weeks later. So sad.

This dog was not just a dog. He made a rainy day, sunny. A cold day, warm. A chaotic day, peaceful. I was blessed to have him and as the title says, I felt he rescued me. I was blessed to have him until May 2012.

It was a Saturday afternoon and I had just gotten home from work. We live on a very busy street and traffic never slows down. We didn't have a fenced in yard and it had never been a problem as Little Dog never wanted to head to the street. I made the fatal error of letting him out and told him to stay in the carport as he was always good at listening.

This fateful day, someone was walking along the side of the road and he thought he needed to protect me and off he jetted. I scream for my roommate to try and catch him but it was too late. He ran into the street and was struck by a car. He lasted long enough to be carried into the carport and for me to say I was so sorry, I loved him and good-bye. My life has never been or never will be the same. I will forever feel the guilt for and the love of Little Dog.

RIP sweet baby. Until we meet again, I will love you forever.