Your Pet Loss Stories'Today I Buried My Heart'
by Cori Ludemann
(Ohio)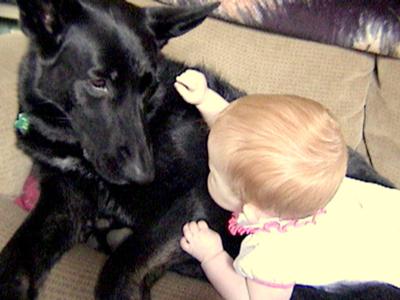 Our meeting was pure accident, but it would change my life forever. It was around 9:30 one fall night when a neighbor knocked on our door. He told us that he had just gotten a new dog that day, a black German Shepherd, and that the dog had gotten away from him. We spent the next three days helping him search for the dog. I had no idea that soon Willy would come into my life and leave his pawprints on not just my heart but my soul as well.

About a week and a half later as we were driving out of town my son told me that he saw the dog in the field near the road. I spent 45 minutes coaxing the dog to me and returned him to the neighbor. The neighbor no longer wanted him and was giving him back to the breeder. By this point there was already a connection between me and the dog. I showed up before the breeder did and begged her to let me have him, soon I was walking him home.

He was a skinny thing, only 86 pounds at 1 1/2 years old. It took 2 years to get him up to 115 lbs. We later found out that he had a digestive disorder and joint deformities in three legs. I have a social anxiety disorder, Willy was my medication. With him at my side there was no anxiety, no fear, no panic attacks. His calm strength gave me the strength to enjoy things that were impossible before. I could go to the fireworks with 2,00 people surrounding me, and with him at my side I could even laugh.

We were almost never apart, even off leash he would never stray more than 20 feet from me. When I went out of town for a few days he refused to eat. We were happiest when we were together. He knew when I just needed to hold him, or when I needed a distraction. He was fiercely protective of his family and home, but the gentlest soul with any type of baby.

I had to put my soulmate to sleep to spare him the pain in his legs at only 6 years old. Now half of me is missing and I have to learn how to not just live without him, but how to function without his courage. He was an extension of me. He was the self-confidence that I don't have. I will always love him, no other dog could come close to replacing the bond that we shared. He was that once in a lifetime dog that most people never get to have.

If you are one of the lucky few to have a pet that is the other half of you, the pet who makes you whole, treasure the time that you have. Live each moment with them to the fullest. All too soon they are gone and you have to go on with only half of your heart and soul. Willy was my best friend and can never be replaced, someday I hope to find another dog that can come close, but it will take a long while, if ever before I can find a dog who can give me what my big beautiful boy did.




Click here to read Willy's Tribute
Click here to read Cori & Willy's Diary
Click here to read or post comments
Join in and write your own page! It's easy to do. How? Simply click here to return to Your Pet Loss Stories - Dog Stories - V - X.