Your Pet Loss StoriesWaggy Boy Baron
by Linda Conlon
(Blairsville, GA, USA)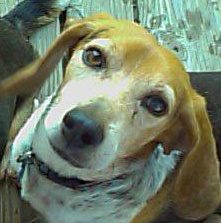 My Baron buddy
I had to say goodbye to my happy waggy boy Baron May 1st. Before me he had a hard life, he'd been a research dog, heavily hw infested, resulting in CHF, requiring lifetime meds.

His loving heart just stopped responding to his meds and it was his time to go. I had two wonderful years with him, about 1 1/2 years longer than the vet thought he would live. We made every day count. The day before we said goodbye, we sat on the porch together, and smelled the breeze, and the warm, and felt the sunshine on his face. He had refused food, so I couldn't give him his favorite yum yums.

The next day when we went to the vet, Baron sat on my lap, put his head on my shoulder and slept, waking only when we got there. He was ready to leave, no fear.

Baron was my first rescue and he has left pawprints on my heart. But like my Katie, who went before him, he heard a voice greater than mine calling him. RIP my sweet Baron. I will see you again......