Your Pet Loss Stories'Where Does The Time Go?'
by Ed
(Denver, Colorado )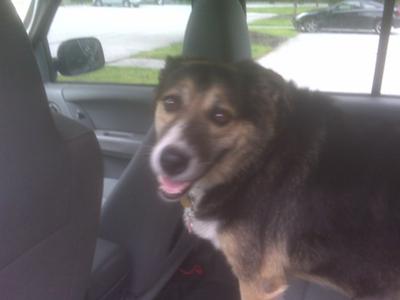 CoCo enjoying one of her many rides
This Friday (January 27th 2012) marks one month since I last saw and held my Angel on this Earth and one month since my heart was broken ...

Co Co was such a special girl who actually rescued me when I came to the shelter that day to supposedly rescue her.

She was abandoned, unloved, and seemingly unwanted which to this day boggles my mind .. How could anyone with even half a heart not instantly recognize what a wonderful spirit she was and not love her instantly as I did?

Co Co and I became best friends almost immediately and within a very (and I do mean short!) short time, Co Co had claimed my home, my couch, and bed as her own! I didn't care - She'd had a hard life and deserved any/all comforts I had to offer.

Co Co came to me in December of 2009 and went home to God in December of 2011 following a short but devastating illness that attacked her kidneys and liver .. I did everything I could and spared no expense to heal her but nothing worked - She declined rapidly and I was faced with the heartbreaking decision to either be selfish and let her suffer or release her spirit from her diseased body ..

December 27th, I sent her home to God.

On that final morning, I held her closely, and cried like a baby while telling her "thank you" for choosing me, and allowing me the honor of being her forever human - I told her how much I loved her and what a special Angel she'd been to me and that I'd see her again at the Raibow Bridge .. Everyone, including the Vet was in tears as she laid her head down to sleep, and I kissed her good-bye.

The following I went to pick up her ashes and discovered that the Vet had taken an imprint of her paw and placed it on a card for me .. I cried when I saw it.

I took some of her ashes to her favorite park and spread them along the trails she loved to run on - The remaining ashes are sewn inside her most favorite plush/squeakie toy :)

I took the card/paw print to a local tattoo shop and had it copied exactly, and tattooed on my left arm next to my heart.

Her collar hangs over the Jeep's rear view mirror so she can ride with me wherever I go .. I know she'd love that :)

This past month without her has been very difficult - I look for her everywhere, and still call out for her. I miss my girl so much.

Although CoCo is gone physically, her memory lies buried deep inside my heart forever.

RIP Angel girl ..wait by the Bridge, I'll be there before you know it.