Your Pet Tributes'Annie'
by Jo Ann Shultz
(Newberry,SC)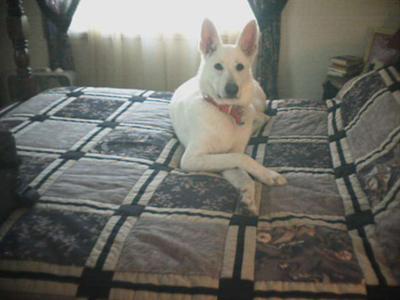 Miss Annie
My heart is breaking and I can't stop crying. Annie left us on Nov 16, 2009. Annie was our baby. She gave us love, companionship, and a best friend. She saw us through the bad and the good, the loss of our parents. She was more like a child to us. She would sleep by my side at night. She had such a beautiful smiling face and loved everyone.

Annie was a big white german shepherd. She was really a big girl. She was extremely smart. We talked to her as a child. She protected us but we could not protect her from arthritis and cancer.
Just looking at where she would lay breaks my heart. I will never forget the look on her face right before I said good bye. There will be no other as precious as Annie.

This may sound strange but, when we returned home she was standing by my car door. Only for a second I saw her one more time. As if to say I'm alright now.

We will all always love you and keep you in our hearts.
Click here to read or post comments
Join in and write your own page! It's easy to do. How? Simply click here to return to Your Tributes A-C.