Your Pet Tributes'Apollo'
by Brenda Flores
(Chicago)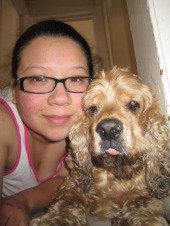 Apollo and Mommy
I had the best dog in the whole wide world! He was an awesome American cocker spaniel I had him 11 yrs of my life! He was the greatest gift god could of gave me, he gave me nothing but unconditional love and was the most loyal caring dog, words can't explain the pain I feel now that you're gone! It hasn't even been a month! I would give ANYTHING to be able to hug and kiss one last time to be able to tell you how much I love you and how special you are too me!

What comforts me through these hard times is that I know you didn't suffer a lot and you died in your sleep here at your house with people that loved you! APOLLO I LOVE AND MISS YOU EVERYDAY OF MY LIFE BABY BOY! I know now you're with the lord pain free and happy waiting for mommy! Marley misses you too! We are taking care of her so she won't get depressed because you're not here.

APOLLO I don't think you understand the pain you left when you went to heaven! I know I can no longer see you but you will live in my heart till the day I die! This is not a goodbye but a see you later! I LOVE U BABY BOY!!!! In the mean time WATCH OVER US until we meet again!


APOLLO
4-29-99 TO 7-26-2010
Join in and write your own page! It's easy to do. How? Simply click here to return to Your Tributes A-C.