Your Pet Tributes'Benttail' (He was born with a bent tail)
by Elica Terry
(Lewisville, Tx US)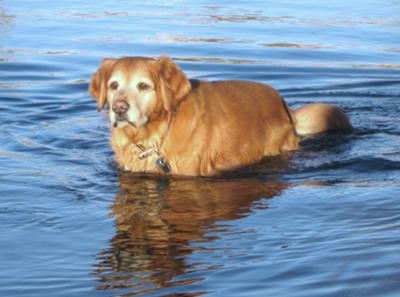 Bent doing what he loved the most... fishing
My boy Bent was my kid... he went everywhere with me... always beside me, behind me, in front of me.

I lost him on 02/24/2012 from liver cancer. He was 10 years old. I did everything I could to keep him as long as possible but when he began having breathing problems... I made a decision... I refused to let him suffer... but now I am suffering !!! I feel like a huge part of me is gone and I won't ever get that back.

This song is dedicated to my baby boy Bent:


Everything I Own - by Bread

You sheltered me from harm
Kept me warm, kept me warm
You gave my life to me
Set me free, set me free
The finest years I ever knew
Were all the years I had with you
And...

(Chorus:)
I would give anything I own
Give up my life, my heart, my home
I would give ev'rything I own
Just to have you back again

You taught me how to love
What it's of, what it's of
You never said too much
But still you showed the way
And I knew from watching you
Nobody else could ever know
The part of me that can't let go
And...


Is there someone you know
You're loving them so
But taking them all for granted?
You may lose them one day
Someone takes them away
And they don't hear
The words you long to say

(Repeat chorus)

Just to touch you once again.

(Written by David Gates)


BENTTAIL 2006-01/24/2012
Click here to read or post comments
Join in and write your own page! It's easy to do. How? Simply click here to return to Your Tributes A-C.