Your Pet Tributes'Buddie'

(Budster, Bud Bud, Little Guy)
by Hannah
(England)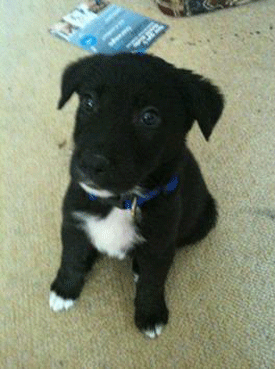 Buddie Aged 2 Months
RIP Baby boy, at only 6 months your life was short lived, but you was our little ray of sunshine, healthy, happy, bouncy and full of love, we miss you so much and it's only been 12 hours, oh how the house feels so cold without you.



23.3.2010 - 28.9.2010
GSD X STAFFY
Buddie Bennett Topliss (little guy)
The most special boy in the world, a real loyal, happy puppy. We love you with all our heart, we miss you.
Buddie died from epilepsy, he had the worst type, he had a fit (the 1st fit we had seen him have, and we are usually with him all day every day) and he didn't come out of it for 3 hours even after being given an anaesthesia, but after 3 hours he stopped and the vet tried to wean him off it, after 20 minutes of not fitting he had a fit again.
The vet (a great vet) advised us it would of done a lot of damage to his brain, even if he had pulled through he wouldn't be the same again. But the chances of him pulling through are close to nil. The early hours of this morning on Tuesday the 28th of September, our baby boy went to sleep, and never woke up again.
Always in our hearts, thoughts and everything we do.
We Love you.
See you in our dreams............xxxxxxx