Your Pet Tributes'Clementine'
by Natasha
(Australia)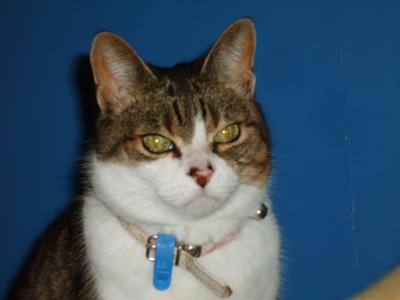 Clementine
7 October 1997 – 27 June 2010
Little Bell, you are such a beautiful and sweet cat. My heart aches knowing I won't see your little face everyday. Won't see you rolling around in the rose pot; curled up in the bed which you would jump in as soon as Mum got up; riding in the wheelbarrow; rubbing up against everything you pass; yowling every time you see Tiger; meowing from the top of the shower wanting a lift down; or where you will be most missed, curled up on Mum's lap with Princess, your nose snuggled into the fur on her back.
I will always remember coming home from High School and watching you being born – the third girl then followed by your brother. It was one of the best days of my life and we are so honoured and grateful we had the chance to be a part of your life. You were the little girl, with the beautiful markings of your mother. They said you were too small and wouldn't 'make old bones'. You showed them! Mum watched over you as you were regularly sick for that first year and you loved her stroking you along your back. It was the start of a special bond between the two of you – one that will forever be in your hearts.
We knew you were ill, your wonderful personality wasn't there but two trips to the vet found nothing. On a third visit the x-ray identified why your breathing was laboured – fluid in your lungs. Our hearts broke seeing the x-ray. I wish I could go back and with the knowledge I have now and get the problem identified sooner – you might still be here with us today.
Friday was a very difficult day. We were so worried while you were at the vet to see the specialist. I still don't understand why it wasn't till 4 hours after the appointment we were finally contacted. It wasn't good news – a twisted lung – cause unknown. A rush to the surgeon late Friday afternoon left us with the choice: major surgery or putting you to sleep. There was never a choice baby girl, no matter what; we had to give you every chance. It was so hard leaving you there, even though you were in the best place, Mum and I broke down in the car in the parking lot.
Our hopes grew when you woke and were doing well after 4 hours of surgery. You made it through the night and the next day. We are so proud of how strong you are Bell, such a little fighter. Mum and I were planning bringing you home, how wonderful it was going to be driving out there to pick you up and care for you when we got you home. But you came home too soon. I had a bad feeling when the phone rang and the news was devastating. It had been too much – you had slipped away during the night. I can't belive you are gone. I keep thinking about how excited I should be feeling getting ready to bring you home in the next few days but you are now already home – buried next to your dear sister, Samantha who we lost a little over a year and a half ago.
I know Sammy was there with you in spirit while you were in hospital, lending you her strength and keeping you company – making sure you know we all love you. She was there to greet you at Rainbow Bridge, as well as Lad where I know you are safe and happy, chasing leaves and butterflies and waiting for the day in the future when we will all be reunited.
I promise to continue to watch over your brother and sister – Tyler & Muggsy as well as dear Princess and the dogs. Oh, beautiful girl, little Clemmie Bell we all love you and miss you so much – you will forever be in our heart baby girl.
XOXO
Natasha, Mum and family