Your Pet Tributes'Dante'
by Terri Brophy
(Warwick, Rhode Island)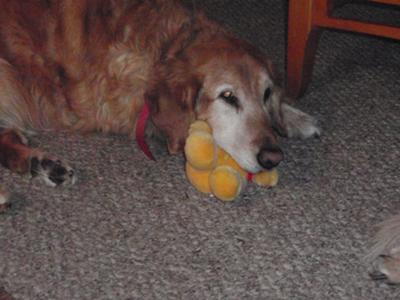 Dante passed quietly and unexpectedly Saturday evening. He came to us on a December morning. He had been dropped off at the animal shelter, a 90 pound, 11 month old Golden Retriever with no training whatsoever. His owners had given up for him, to which I send my eternal thanks. From the day he came home with us, he became my best friend, my boy.

Dante and I were a therapy team for years. We went to a local nursing home, where the elders would look for him on Sunday afternoon, talk with him, wrap their arms around him as he did the "golden lean". One elder would just look at him and say "I love you, I love you, I love you". Again, Dante would just give gentle kisses and lean in for hugs. We also did children's reading groups, where Dante would roll on his back, paws in the air, to receive hugs, pets and treats.

In 2003, at the age of 5, Dante and I did pet assisted therapy at the Station Fire. While people waited to hear if their loved ones had passed, Dante comforted them. He was there for the police, the firemen and the counselors and spiritual leaders as well. It was chaos, sadness and tension - Dante simply was there to comfort.

When I went through my own divorce, Dante was my rock. We went for long walks, drives, or just sat together, holding hands. He knew when I was sad, he know when I was happy. He hated to see me cry - it made him nervous. He loved his stuffed animals more than anything, and would love to prance around with something whenever I came home to make me laugh.

When it came time, he was 13 years old. I tried to prepare myself, knowing he was elderly, but it came on sudden. He stopped eating, he stopped moving, he lifted his head and just looked at me. Even his tail, which would always wag when I just said his name, was a small, frail wag now. We took him to the ER vet who said he required major surgery, and even if given that, would most likely have 2 - 6 months of life. We chose to release him to heaven. This was less than two day ago, and I feel like my heart is literally breaking. He left us peacefully, I held his paw - rubbing and holding, trying not to cry. With my other hand I scratched his ears which he always loved, and just said over and over again how much we all loved him and what a good dog he has been.

I knew it would hurt, I knew I'd be lost, but I never knew how total the grief would be. I am trying to focus on the good times, his blessing he shared with the world, his light, his gentle manners, his true love. I know he is still with me in spirit, but God - I miss him so much. The loss of my Dante, my best friend, simply put - hurts more than words can say.

My comfort and the only thing that makes me smile, is the thought that my boy is up in heaven and maybe he is doing there what he did here. He is greeting those who arrive in heaven, maybe nervous, scared, unsettled. And there is Dante, with a toy, and a wiggle to get a smile; or maybe he simply will lean into them and offer that strong shoulder for comfort. He will know what to do - he always has. Dante, my love, I know I will see you again. I feel better about my life knowing that. I feel I am a better person.... having had your love.