Your Pet Tributes'Ebony'
by Therese
(Croydon, NSW, Australia)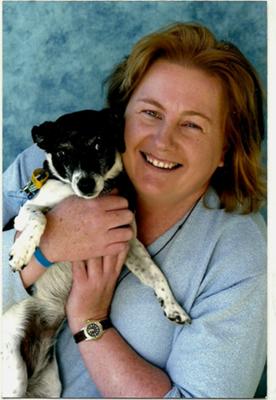 Ebony and Therese after the 5 Km Million Paws Walk
My beautiful little girl died at home on Easter Saturday morning. Ebony was a RSPCA rescue dog. Ebony chose us. Terry my spouse at the time, were delighted to have her in our lives. She was around 8 months old back on 9 April 1998.

Ebony was with Terry when he died suddenly of a heart attack in February 1999. She was an example of unconditional love. We had a deep bond.

I am glad you are no longer in pain but I do miss you very much.

I hope we meet up in heaven. You are my best friend and I am lost without you. I see you in the corner of my eye but realise you are not there.

I will dedicate this years 5 Km Million Paws Walk and the following to you my darling Ebony. I will always love you.

Ebony was a Mini Foxie Cross Jack Russell, so she was not completely black but I wanted to call a dog by that name. So people would sing the song Ebony and Ivory.

You are my sunshine, so when I look up to sky I will see you.




Join in and write your own page! It's easy to do. How? Simply click here to return to Your Tributes D-F.