Your Pet Tributes'Elly Belle & Max'
by Cindy
(McKinney, TX)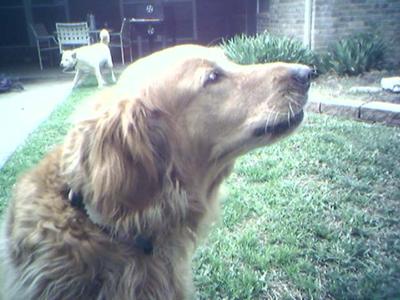 I locked eyes with Elly when she was 12 weeks old and I knew she was the dog for me. Elly was my Golden girl for almost 15 wondeful years. She loved to roll in the grass, take longs walks with Max and Steve, retreive balls in the water, and most of all, she was a sweet, precious dog with warm, soulful, brown eyes.

Elly moved around with me without complaints while I tried to find myself for five years. I always knew she would be waiting for me when I got home - tried and true. When we met Max (her canine friend) and Steve (my human boyfriend), life became calm, predictable and happy. Steve walked Elly & Max in the park every morning until both Elly and Max died within 5 days of each other in Nov 2011.

Without Elly & Max to come home to, life is hard. I ache to kiss Elly's gray muzzle, pet her soft fur and tell her anything and everything. I long to see Max's tail wag when you would say his name; he was a true gentleman to Elly; always quietly strong and sweet with a heart of a rescued dog.

Elly girl and Maxey - I miss you guys so much. I haven't reached the point in my grief where I accept you are gone - 3 weeks without you seems like 3 years. In my prayers, I want to believe I was a good owner to you and if you could do it all over again, you would choose me again as your caregiver.


Click here to read or post comments
Join in and write your own page! It's easy to do. How? Simply click here to return to Your Tributes D-F.