Your Pet Tributes'Gizmo'
by Margaret Easley
(Austin, Texas)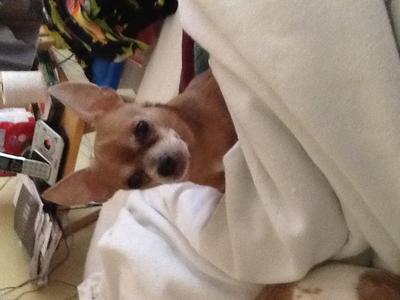 My funny boy in March 2013
Gizmo was a apple head Chihuahua. I got him in 2003, he was companion for my little Rat Terrier Teko. I wasn't real crazy about him at first, he had some strange ways, he was 9 months old when I got him and had been in a outside kennel with about 12 other Chis. He had never lived inside, he was free so I took him.

Over a 10 almost 11 year period he wrapped me around his little paw. He was a funny little man, he had a game he played with me, I called it the head game he would just rub his little head on mine and all over my neck, and chest.. he moaned like a little baby when you cuddled him. He loved to sleep on pillows, and he had 2 that I would arrange he laid on one and the other was kind of wedged between the wall and bed an it would cover him like a cave, he loved to hide, he loved to tackle his big brother Teko.

Sometimes they would really get into it an I'd have to separate them.... he hated fireworks, and thunder and rain and loud rap music from cars passing by. He loved cheddar cheese, and liver, and bites of my sandwich, and tastes of vanilla ice cream.

Over the years he went from Gizmo to Gizzy to Boogy to Boogy Two Shoes, I don't know why, LOL. He liked to lick his feet so I bought him socks to wear cos he was making his feet sore, boy that was like putting socks on a lion.... he'd see them and take off. The vets never told me anything was wrong with him always said he's healthy.

2 weeks ago he started getting real slow not wanting to get up and go out to potty, he wanted to be carried, I was thinking OK he's getting old like me. Then by May 15th 2013 he started kind of choking and was breathing real hard, so the 16th off we go to docs office, I knew when he took one look the way he looked at Gizmo it was bad. My baby had congestive heart failure, and lung tumours after the x-rays, they wanted to put him down an I asked for a day, so the doctor gave me Lasix and heart pills.

Friday the 17th of May he ate but I had to help him, he was weak could no longer potty alone or raise his leg so he'd just stand up an pee. Saturday morning at 11:00 am he ate half a Vienna sausage then went to his pillows, sat up looked around looked at his buddy Teko, then me I knew he was going. I said lay down my sweet baby and rest. He curled up, looked at me as if to say Mommy I'm so tired, I covered him. 15 minutes later he was gone, I buried him in his yellow t shirt in his yellow pillow case and he has a yellow miniature rose bush over him.

Gizmo, Mommy loves you, I will always love you and cherish our years together. Teko looks for you. I love you my sweet baby boy, always and forever, my Gizzy. Love love love love love, my heart is so broken Teko is all that's keeping me going now. I wish you could just come back to me, I'd give all I have. I love you, Mommy.