Your Pet Tributes'Harley Jane Dean'
by Amber
(Blacksburg Va)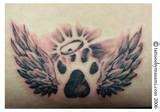 My husband and I went to a pet store and we fell in love with this cute litte 7lbs Doxie puppy, she was perfect. We got her home and my husband taught her how to jump on the chair. But she claimed me, she followed me everywhere, she even tryed to take showers with me.

I had her for 4 yrs and now I am lost without her. She passed away on Apr 6, 2012 at 10am. My husband found her we took her in and had her cremated. I don't know what I'm going to do without my baby puppy, I have cried and laughed with her.

I love you Harley you are dearly missed.

Join in and write your own page! It's easy to do. How? Simply click here to return to Your Tributes G-I.