Your Pet Tributes'Hunter O'
by Rob Oberst
(Old Bridge, NJ USA)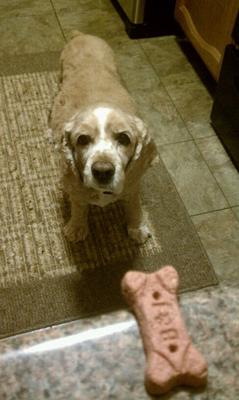 Hunter, you came into our lives in the Summer of 1998 as a little buff colored ball of fur. A Cocker Spaniel tiny and innocent. Although you were given to our daughters when they were young, it was me who you tagged along with. You always looked for me when I was on trips or just stepped out to do errands. We were inseparable and shadowed each other. If we were gone or in another part of the house you would howl and howl from the separation. You wanted to be the alpha male in your youth, but you soon knew your place. You were energetic and full of play.

Every morning you greeted me with the pull toys and squeaky toys to throw to you to play fetch. You loved riding in the car with me, just lying down in the seat next to me just to have your head rubbed. From puppy to adult your crazy habit of digging high speed with your front paws and getting mad at the floor you were clawing at always amused us. (We had no idea what was going on in your mind) I always loved telling you, "NO" when you barked a little too much and then you'd snarl at me over and over when I'd say "NO". My wife and daughters would always hear me singing stupid and weird songs to you (only we could understand).

Things slowed you down a bit as you got older, the Lyme disease, the osteo arthritis and your hearing disappeared. In your final year your joints were weakening and your legs were not supporting you too well. The rest of your body was strong, your heart, eyes and always knowing where the food was. Despite all this your little nubby tailed always wagged to show me your unconditional love. Even when you greeted me on your last day July 9,2012 your tail was wagging a mile a minute.

My faithful and loving friend Hunter, our lives are all but vapors. We are here one minute and gone the next. Life is short, but the memories were good and they are lasting. I will see you in heaven buddy.
Click here to read or post comments
Join in and write your own page! It's easy to do. How? Simply click here to return to Your Tributes G-I.