Your Pet Tributes'Iris'
by Nicole Phillips
(Rancho Cucamonga, Ca, USA)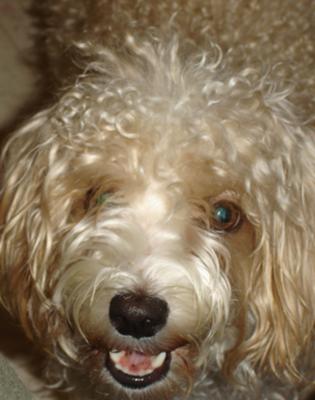 Our dear baby girl. We adopted you on a chilly January day almost two years ago. You found us, and knew that you could convince us with one kiss that you needed to be our dog. You loved our other dog Vinny and quickly, you became our fourth member of the family. Daddy and I loved you like no other. Especially your daddy.

Three years old and full of life and beans. Everything in our home was your jungle gym. You were our Matrix pup, our stealer of bagels, our little lamb, doe face, pupperoni... baby girl.

When you hurt your back, we were devastated but willing to help you heal. We wanted you to walk again. We never thought that in a million years, your little legs would stop running and your tail stop wagging. This injury - this random injury caused by who knows what - tore our hearts out. We watched you for weeks, slowly lose your feeling in your body. We held you just trying to get that tail wagging again. But after weeks of watching your frustration and lack of a good pup life, Daddy and I chose to free your soul.

This was hard baby girl - because the selfish part of me wanted to keep you forever. You loved children and Daddy and I thought you would be our future baby's mama dog. We had family albums already made up in our minds filled with our family and you were on every page. But baby girl, you needed to run and jump and play. Confined to a bed forever looking out onto the world from our living room window was not a fair and happy life for you. I am so sorry baby girl, but we knew your soul needed to be free. Free to come back to us one day - maybe on another cold day in January.

Daddy and I stayed up all night Thanksgiving night, knowing that our life with you was an hour glass. I kissed you and held you and cried and told you until the sun rose that we loved you and that you were our good dog. I fed you and cleaned you and wrapped you in a towel and Daddy drove us to see the vet. We were wishing and hoping for a miracle.

We sat in that waiting room for 45 minutes watching other dogs get anxious for a teeth cleaning. I held you tight, not minding the extra 45 minutes. But holding in every ounce of tear, knowing our time with you was coming to an end.

I felt Daddy tighten up as they called us in. The doctor did not see any improvement, and told us that we were being humane. We held your little face and neck and kissed you and you gave us a few kisses too. We stayed with you until the end, but our love for you never ends. You were a good baby girl. You were a gift we gave ourselves to celebrate our love. You were our first "baby" we had together. You will always be loved.

The first night without you was cold. Your "brother" Vinny, layed between us, missing you - missing his playmate. Today is our first full day without your tap dancing paws running all over the house. Tonight is our first Saturday night watching movies without you on my lap begging for pop-corn.

I do not know what I believe in. But if heaven is real, I can only hope that when dogs go to heaven, they find little children who went to heaven to love and take care of while they wait for their families. I imagine you on white fluffy clouds, kissing a little girl and sleeping between her feet. I just hope one day, your soul will travel down again and find us.

Rest in Peace our sweet Iris baby.