Your Pet Tributes'Jason Hassan'
by Bibi Hassan
(Guyana South America)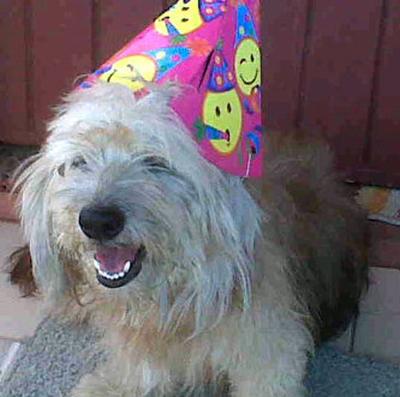 Jason at his birthday party.
After spending 13 years with me my loyal companion and best friend Jason has gone home to rest.

Jason you were not just my pet dog, you were my everything. I missed your presence around me, our morning and evening walks together. I longed to hear you welcome me when I come home from work when the taxi arrives.

You are a gift from heaven, I missed you so much, only one who has pets will know my true feelings right now. Jason, it's one week now since you gone, I just wished to hug and kiss you once. You are a gift from heaven.

Your four friends the cats Armani, Baby Prince, Buffy and Brandy missed you very much. Jason my Poppy I will always love you. Rest in Peace!

Jason was a Tibetan Terrier and was very loyal and friendly, I got him when he was only 6 weeks old and spend 13 years with me.


Click here to read or post comments
Join in and write your own page! It's easy to do. How? Simply click here to return to Your Tributes J-L.