Your Pet Tributes'Jellybean'

(Washington State)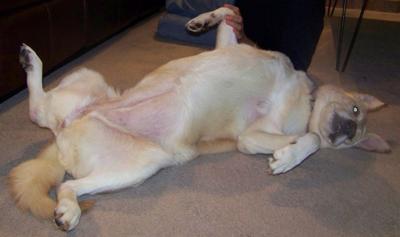 We adopted JellyBean to be a companion to our older dog. She ended up being my companion and "right hand man". We traveled together, slept together, and even enjoyed string cheese together.

Just a short 5 months after adoption she started having problems and her vet discovered a lumpy liver. Only 2 months after that, our JellyBean made a turn for the worse and her lab results were devastating. We lost her to cancer. It was even more of a horrible blow to my family because JellyBean died only 2 weeks after our cat (who had been in the family for 10-11 years) died of cancer!

JellyBean was the most adorable, obedient, and fun-loving dog I have ever had. Technically she was the only dog I have ever adopted since our older dog was my partner's dog long before we met and I had never had a dog before that. I miss her soooooooo much and the pain of her loss hasn't gone away.
Join in and write your own page! It's easy to do. How? Simply click here to return to Your Tributes J-L.