Your Pet Tributes'Juniper'
by Shelley Smith
(Morro Bay, CA USA)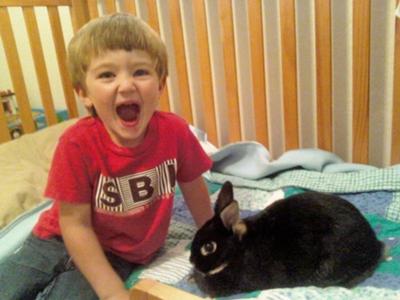 Dylan and Juniper
Juniper (JUNE 2007- NOVEMBER 16th 2011)
(Our love, Our bunny)
For she gave me the love and compassion I could not get from my partner,
She gave joy to my Son when his father wasn't present,
She moved to four out of five homes in her 6 years of bunny life,
Juniper gave us all a sense of serenity and peace.
She would nibble little holes in our clothes,
scratch and gnaw on the baseboards.
She always let us know when she needed a refill of food by kicking off the bottom of the wire cage loudly.
She would growl at her fellow predators, making people back off or move out of her way.
She would growl at the hand that tried to move her towel.
She pulled up many of carpet fibers shredding them to the bitter end.
Junipers characteristics were one of a kind. She had many other animal friends she had met along the way. She even survived a wicked killing attempt by a young husky.
She would kick it with the Shitzu's and Goose, our puppy.
She loved to run free even in the most chaotic situation, and always knew how to find her cage and security blanket/towel.
Juniper spent many nights in my arms, with her head nuzzling my neck, only to sniff repeatedly in my ear the familiar Juniper love kisses. She comforted my many nights when I was scared, alone, and unsure of what could or would happen.
Dylan loved to hop on all fours with her, giving her Eskimo kisses, and letting her long whiskers tickle the end of his toddler nose.
She stuck around for as long as she could hold on. She is most recognized for her last week on earth. She had a sense of peace, calming peace, loving peace. She was ready to be touched by the finger of God. And he touched her last night/ early morning Wednesday the 16th of November.
Juniper will always be remembered, loved, respected and appreciated for her gentle loving spirit.
God Bless you Juniper, You are a free purty bunny now, and we send our angels to help guide you peacefully to your happy place.
Thank you dear Junie Bun Bun's for the beautiful memories in which you shared with us. We love you baby girl!