Your Pet Tributes'KC Sunshine'
by Regina
(Melbourne, Victoria, Australia)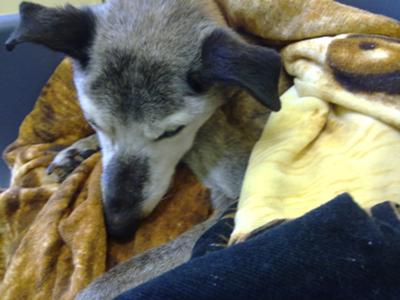 My final photo of KC Sunshine
Kelpie x Whippet, Brindle, Female
Born: August 1993. Passed Away: 29 July 2011. (6 hours ago)

My beautiful natured friend has gone now, leaving a huge hole in my life. I'm trying to remember all the fun we have had over the years but instead of a smile, tears appear in my eyes.

I wish I could turn back time and have you with me again, but I just have to accept that you are at Rainbow Bridge, waiting for me to join you one day.

I will never have another dog in my life. I will never be able to find another perfect friend like you.

I'm going to miss you KC Sunshine.

"The Best Dog in the World"
Join in and write your own page! It's easy to do. How? Simply click here to return to Your Tributes J-L.