Your Pet Tributes'Love You Always'
by Sushma
(Delhi)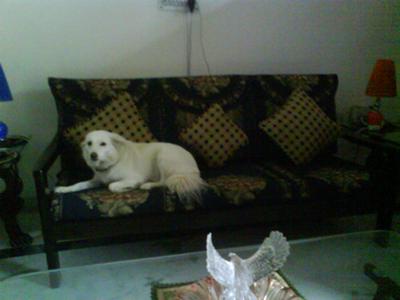 Dearie
Our house was alive with your constant barking. The neighbors, visitors, cats and mice were petrified to even come near the house. Visitors or workmen were even scared to touch our main gate because of you. You were known to be ferocious and (to our advantage) we let that impression be. Even though you were so timid that you couldn't even go alone till the main door in the dark. Or always peed outside the vet's clinic.

You know your barking friend Tuffy too misses you. Her faint barking was in sync with your shrieky barking. Now she keeps waiting for your response, just like we do. She alone can't scare away the cats or monkeys.

It's been a month since you're gone and there hasn't been a day that I didn't miss you badly. 30 days without you... seems unbelievable. Your affection, love, excitement, cute antics... I miss it all so much.

Your sheer innocence and liveliness is so alive in our memories that it seems not possible that death could touch you. I feel that you might just sneak out from under the bed someday and everything will just be the same as before. You brought back the child in us all the time. You have left us as hurt adults.

Join in and write your own page! It's easy to do. How? Simply click here to return to Your Tributes D-F.