Your Pet Tributes'Patty'
by Jenny Olsen
(Houston, TX USA)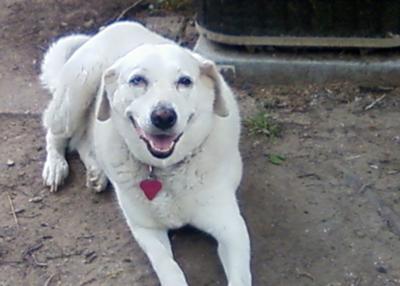 My sister saw her at Petco at an adoption thing 10 yrs ago. I was looking for a second dog and I liked Patty right away. She was a beatiful mutt. She was half australian shepherd and half lab. Her colors were crayon white with a few tan spots. She had one blue eye and one brown eye- she was the sweetest, most stubborn dog I ever have had. Her age was 1 year old when I got her. My other dog and her hit it off right away-they were like sisters.

I love my 60 lb. white furball so much and miss her so much too. She loved to swim, hunt and live in the AC as much as possible. An amazing dog. She died on July 12, 2010 at 11 years old. My husband and I buried in the backyard in the exact spot where I would see her every morning when I opened the kitchen blinds to the backyard. She would stare at me and wag her tail saying Good Morning! Where is my breakfast? I would wave at her and she would run to the door that led to the garage and greet me.

My husband and I were with her in her last 10-15 minutes of life. I pet her and told her how much I loved her and would miss her. Patty was a supercalifragilisticexpellidoscious dog here on earth and I am so happy that she was my dog. Patty is in heaven now with friends Kiki and Cujo. Patty made her home with us for 10 wonderful years. Thank you Jesus for letting her in our lives.
Click here to read or post comments
Join in and write your own page! It's easy to do. How? Simply click here to return to Your Tributes P-R.