Your Pet Tributes'Pebbles'
by Barbara Davis
(St Cloud, Fl)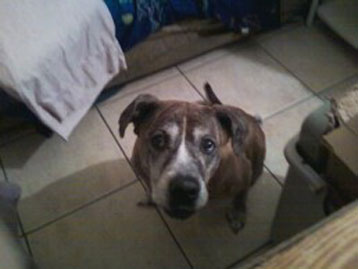 To my dearest Pebbles,

It has been 1 week tonight that you left me and I miss you SOOOO much. Every minute I think of you. I don't want to wake up knowing you're not with me anymore. 11 years baby girl wasn't long enough to have you in my life.. I'm waiting for you to show me a sign that you are with me, I go to your grave daily and I hate the thought of you being in that ground.. I wish I could of cremated you so you would still be in the house with me.

You was a special dog, very smart knew the words I spelled out.. I know you're in heaven and happy, but I am so lost without you baby girl.. You were my everything.. I wish I knew what took you from me.. was it something I did wrong?? God how my heart aches, everywhere I look I expect to see you right behind me and you're not there.. Pebbs I'll never replace you.. I'll cherish your memories 4 ever. I miss your kisses and miss kissing you..

Sweet Dreams in heaven Pebbs Hope to be with you soon,

Love you Mommy

(I'll have your pic on here soon).
Click here to read or post comments
Join in and write your own page! It's easy to do. How? Simply click here to return to Your Tributes P-R.