Your Pet Tributes'Shadow Girl'
by Jodi
(Florida)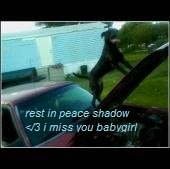 My Shadow Girl
I adopted Shadow from the dog pound when she was 2 months old. I was in an abusive relationship for about 3 years, and there she was. Always by my side, in tears, pain and happiness. When I was finally away from the guy, I lost all my financial stability, electricity and water was disconnected. But yet, my Shadow girl was still there. She loved me unconditionally and always slept at the foot of my bed against my legs.

We struggled for many many months, and one day she was abruptly taken from me. A car, speeded up purposely as she was crossing the road coming home from chasing a squirrel (mind you, we are not on a busy road.) They hit her, intentionally, swerved into the opposite lane and killed her. As my new boyfriend laid her to rest last friday morning. She hasn't left my mind nor my heart. I am grieving so.

I miss her so much, I miss hugging her, and loading her up in my pickup truck to go play in the river a few miles from our home. I still can not believe she is gone. The tears won't quit falling, every day when I wake up til I finally fall asleep my baby is on my mind. I can not have children so my pets are my children, and my angel child was taken from me too soon.
Click here to read or post comments
Join in and write your own page! It's easy to do. How? Simply click here to return to Your Pet Loss Stories - Dog Stories - S - U.