Your Pet Tributes'Zack'
by Sandy
(Prince Edward Island, Canada)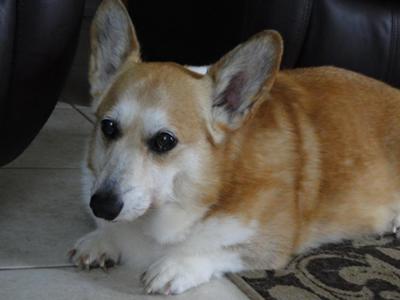 Zack on his last full day alive - Sept 25/11
♥ ♥ ♥ ♥ ♥ ♥ ♥ ♥ Zack ♥ ♥ ♥ ♥ ♥ ♥ ♥ ♥
Pembroke Welsh Corgi
May 9/2001-Sept 26/2011
Zackie, no words can describe how much we miss you.
10 years was not enough.
We grew up together-through moves, job changes, life's ups and downs... you were there for it all. Family get togethers, camping, rides in the car, trips to the beach, playing in the snow, lounging on the deck in the sunshine, to quiet cuddles on the couch.
You made me a better person and brought such joy to our lives. You were a great big brother for Lily, and she misses you so.
We love you and miss you so much buddy, but I know you are in a happy, peaceful place now watching over us.
RIP my dear sweet Corgi, til we meet again someday :)
Love you forever. xoxoxo