Death of a Pet
My Experiences of PetlossMy Cat Ginger
My next experience of the death of a pet came with Ginger.
Ginger was a huge and magnificent ginger tomcat with beautiful markings.
Our local paper always has a section in it about the local animal shelters and animals that are looking for homes. For a few weeks I had noticed an advert asking for a home for an elderly black cat who had serious health problems.
I considered whether I was able to look after such a cat and resolved that if the advert continued to appear in the paper for a few more weeks that I would give him a home.
---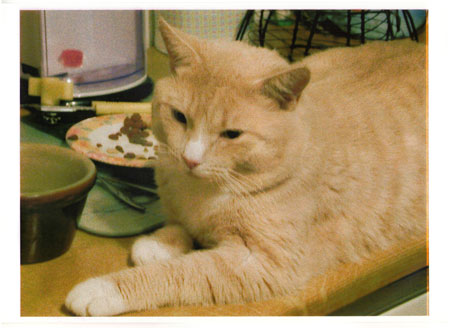 Ginger - now at Rainbow Bridge
---
The advert continued to appear, each time sounding more desperate, so I went to the rescue centre to meet this cat.
That day I met Barney who I did rescue and whose story I will tell later on, but at the same time I found another two cats desperate for homes.
The rescue centre had tried for months to find them a home and I couldn't bear the thought of the death of a pet when there was room in my house for them. Amber was a female tortoiseshell cat whose owner had died and Ginger, the biggest cat I think I've ever met, was a stray who had been picked up with several health problems.
'Vinney' as the rescue centre had named him, had apparently been found as a stray and had had terrible infection around his eyes when he was found. This had taken weeks and lots of visits to the vets but they had finally healed and now he needed a home, so he, Barney and Amber came home with me.
He was around 8 years old when I got him and he proved to be a real character. He became the best of friends with my Mother's Boxer dog Bruno and they would spend every evening curled up together.
For the first month he was kept indoors to get used to his new home, and after that he proved increasingly difficult to get in at night. This was made even worse by the fact that a few of my thoughtless neighbours started to feed him making him even more confident that he needn't come home at night.
Despite being neutered by the rescue centre Ginger was a tomcat through and through and enjoyed nothing better than staying out late and getting in fights with the neighbours cats.
Every night I would go out and fetch him in but he was absolutely determined he was going to get out again.
One day I saw him watching me closing one of the windows and the following day I got up to find the window open again.
It turned out he had actually taught himself how to open my windows and then went on to open doors and when I got locks for those, even started trying to chew his way out through my back door.
I tried everything to keep him in but he was determined, and this sadly was to be his undoing.
One night, my birthday in fact, and the only night in about five years that I had to stay away from home, he was knocked down outside.
I can remember telephoning my Mother in the morning as I had stayed at my friend's house and was due to go shopping that morning. My Mother asked what time I was coming home and I knew from her voice that something was wrong and instinctively asked 'which one has been run over?' She was shocked at this but told me it was Ginger.
It reminded me of when I had had to tell my boyfriend over the phone that Spider was dead. It is very hard to deal with the death of a pet but even harder I have found to tell someone else that their pet has died.
Our neighbours found him and didn't tell us this until the next day so even now I have no idea what happened and whether he was alive when they found him.
I tried so hard to keep him in but he was just stubborn and obviously used to living outside. I had tried to keep him safe but in the end I hadn't been able to save him.
I live in a quiet road which is also a dead end so there is no through traffic. At the time of night he was killed there would have been very few cars about so he was desperately unlucky to be killed only two years after I brought him home.
At the time he died I was unwell myself and didn't have the strength to dig a hole so my Brother came round and helped my Mother and I bury Ginger in the garden.
The death of a pet can be very traumatising. I was very upset as it seemed so unfair and unlucky that on the one night in five years I had stayed away from home, I had had to return to find the death of a pet.
I obviously wondered whether if I had been in that night things might have been different, but I do believe Ginger would have been killed at some point anyway, even if it wasn't that night, because he was just determined to stay out.
I had always buried my cats in my garden, mostly because it didn't occur to me that there was any real alternative. Looking back I wish I had had my pets cremated because then I could take them with me when I move in the future.
This was one of the many reasons that led me to build this website and to start writing a book about the death of a beloved pet, dealing with a pet death and petloss.
When the death of a beloved pet happens, many people just have no idea of the many things you can do following the loss of a pet and subsequently regret not finding out about these options in advance, just like I did.
After the death of a pet you may find it hard to think and to make the decisions involved in dealing with the death of a pet, because the death of a pet is traumatic and shocking, even if you are expecting it.
I really hope this website and my book go some way to answering the questions you may need answering and help you to make the best possible choices before and after the loss of your pet.
Click here to go straight to 'Death of a Pet - My Cat Amber'
Click here to return to the Pet Loss Matters Homepage