Pet Loss Poems
'Blessed Are The Animals'

This is one of the pet loss poems I'd not previously come across before a visitor to the site kindly sent it in to me to share here, so thank you to Anne for that. It's a beautiful pet memorial poem and the message it conveys is so very true I think.
It's also one of those pet memorial poems and pet loss poems that make a lovely and simple gift to show a friend or loved one you are thinking of them in their time of grief.
There are a few pet poems that you often see engraved on pet loss sympathy gifts, and I think this would also make a lovely example for this also if you are trying to create engraved pet memorials or personalized pet memorials.

---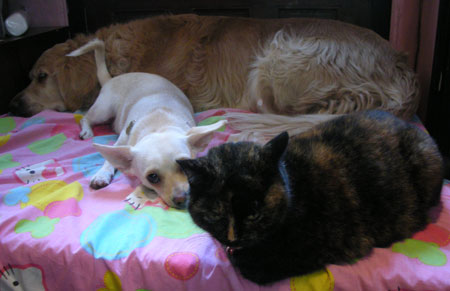 ---
Blessed Are The Animals
Their days are like raindrops
on time's windowpane,
each trickles away
and will not come again;
but blessed are they
as their goodness shines through
and changes the raindrops
to diamonds of dew!
Their years are like leaves
that float to the ground
in colors of emerald
and amber and brown;
and blessed are they
whose "leaves", as they fall,
form a blanket of beauty
that comforts us all!
Their lives are like clouds
that swiftly sail by
and are gone in a moment
from Eternity's sky;
but blessed are they
who turn grey clouds to white,
whose love shines like stars
on the canvas of night!
Pet's souls are like angels
with wings that are furled,
assigned to each mortal
who dwells in this world;
and blessed are they
whose love conquers strife,
the animals are beacons
that brighten each life!

Author Unknown
---
Click here to return to the Pet Loss Poems Index Page

Click here to return to the Pet Loss Matters Homepage