Pet Loss - Pet Quotes
Here are some more of my favourite pet loss pet quotes covering the themes of pet loss, pet grief and inspirational quotes on grief.
For some reason I am always finding far more pet quotes and animal quotes about dogs than I find about cats, but I am continuing to search and hope to add lots more pet quotes about cats and also other animal quotes.
So if you come across a cat quote or other animal quotes or even grief quotes that aren't here already, please do Contact Me and I will add them to these pages so other visitors can benefit from them too.


---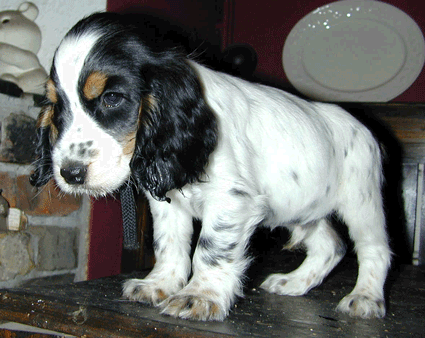 Red as a puppy

---


"I feel about my dogs now, and all the dogs I had prior to this, the way I feel about children — they are that important to me. When I have lost a dog I have gone into a mourning period that lasted for months."
(Mary Tyler Moore)


"We had a dog, Apples. He was 13 years old, toothless, blind and had the worst breath this side of Jabba the Hut. But he was the sweetest dog, and I cried and cried when he died."
(Marlee Matlin)


"I believe that imagination is stronger than knowledge,
Myth is more potent than history,
Dreams are more powerful than facts,
Hope always triumphs over experience,
Laughter is the cure for grief,
Love is stronger than death."
(Robert Fulghum)


"The pain passes, but the beauty remains."
(Pierre Auguste Renoir)

"The misery of keeping a dog is his dying so soon. But, to be sure, if he lived for fifty years and then died, what would become of me?"
(Sir Walter Scott)


"The dog of your boyhood teaches you a great deal about friendship, and love, and death: Old Skip was my brother. They had buried him under our elm tree, they said — yet this wasn't totally true. For he really lay buried in my heart."
(Willie Morris - 'My Dog Skip')


"You can't see anything properly while your eyes are blurred with tears."
(C. S. Lewis)


"My grief lies all within,
And these external manners of lament
Are merely shadows to the unseen grief
That swells with silence in the tortured soul."
(William Shakespeare)

"I can still see my first dog. For six years he met me at the same place after school and convoyed me home — a service he thought up himself. A boy doesn't forget that sort of association."
(E.B. White)


"The best friend man has in the world may turn against him and become his enemy. His son, or daughter, that he has reared with loving care, may prove ungrateful. Those who are nearest and dearest to us, those whom we trust with our happiness and good name may become traitors to their faith. The money a man has he may lose. It flies away from him, perhaps when he needs it most. A man's reputation may be sacrificed in a moment of ill-considered action. The people who are prone to fall on their knees when success is with us may be the first to throw the stone of malice when failure settles its cloud upon our head.
The one absolutely unselfish friend that man can have in this selfish world, the one that never deserts him, the one that never proves ungrateful or treacherous, is his dog. A man's dog stands by him in prosperity and poverty, in health and in sickness. He will sleep on the cold ground when the wintry winds blow and the snow drives fiercely, if only to be near his master's side. He will kiss the hand that has no food to offer, he will lick the wounds and sores that come in encounters with the roughness of the world. He guards the sleep of his pauper master as if he were a prince.
When all other friends desert, he remains. When riches take wing, and reputation falls to pieces, he is as constant in his love as the sun in its journey through the heavens.
If fortune drives his master forth, an outcast in the world, friendless and homeless, the faithful dog asks no higher privilege than that of accompanying him, to guard him against danger, to fight against his enemies. And when that last scene of all comes, and death takes his master in its embrace and his body is laid away in the cold ground, no matter if all other friends pursue their way, there, by the graveside will the noble dog be found, his head between his paws, his eyes sad, but open in alert watchfulness, faithful and true, even in death."
(Senator George Graham Vest, speaking to a jury about his dog, Old Drum, shot in 1869)


"I wanted a perfect ending. Now I've learned, the hard way, that some poems don't rhyme, and some stories don't have a clear beginning, middle, and end. Life is about not knowing, having to change, taking the moment and making the best of it, without knowing what's going to happen next."
(Gilda Radner)


"I have a dog and sometimes I'll be the littlest kid with my dog and marvel at his ears and his nose and how he looks at me. If he died, I'd bawl like a baby."
(Aaron Eckhart)


"Of all the animals, surely the dog is the only one that really shares our life, helps in our work, and has a place in our recreation. It is the only one that becomes so fond of us that sometimes it cannot go on living after its master dies."
(Ferdinand Mercy)


"I guess you don't really own a dog, you rent them, and you have to be thankful that you had a long lease."
(Joe Garagiola)


"Death is not the greatest of evils; it is worse to want to die, and not be able to."
(Sophocles)


"When we honestly ask ourselves which person in our lives means the most us, we often find that it is those who, instead of giving much advice, solutions, or cures, have chosen rather to share our pain and touch our wounds with a gentle and tender hand. The friend who can be silent with us in a moment of despair or confusion, who can stay with us in an hour of grief and bereavement, who can tolerate not knowing, not curing, not healing and face with us the reality of our powerlessness, that is a friend who cares."
(Henri Nouwen)


"There is sorrow enough in the natural way
From men and women to fill our day;
But when we are certain of sorrow in store
Why do we always arrange for more?
Brothers and sisters I bid you beware
Of giving your heart to a dog to tear."
(Rudyard Kipling)


Click here to go straight to the next page of Pet Loss - Pet Quotations

Click here to return to the Pet Loss - Pet Quotes Index Page

Click here to return to the Pet Loss Matters Homepage