Your Pet Loss Stories

'Barabbas...My Old Man'
by Mary
(North Ogden, Utah)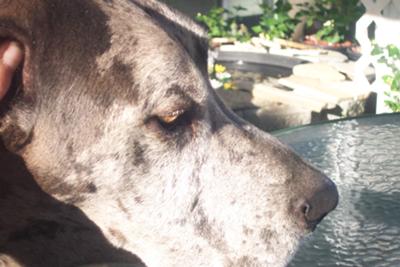 Up close and personal
Three weeks ago my life as I knew it stopped. My beloved Great Dane slipped from my grasp and I had no control to stop it.

Barabbas came into my life almost twelve years ago. He attached himself to me and seemed to spend the rest of his life thanking me for "saving" him from a very bad situation.

He was just a pup...12 weeks old. From the moment I laid eyes on him I knew he would become part of my life. Sharing every day with me. Not just my time but my life. He knew more about me than certainly any human being did. He knew all my secrets, my thoughts my fantasies and he kept them private.

For almost twelve years I could reach out and touch him. He not only shared my life but he shared my bed, my sofa, my chairs, my treats, even my soul.

People who have Great Danes know that one is just not enough so four years ago we got him a mate...Sophie and now we have his son and grand-daughter in our lives which helps me a great deal.

He was walking towards me and I noticed he wasn't moving quite right. I saw he had a bump on his leg...I thought perhaps he had a sprain or perhaps a spider bite. I called the vet right away and got him down there. They x-rayed his leg and then came into the room and handed me a box of kleenex...Bone Cancer....I hit the floor. My legs just buckled out from under me.

For years I had asked God to allow me enough strength to love him enough to let him go when the time came and to PLEASE not let it be because of something I did NOT do...God granted me those two requests.

I called my husband, and my children and they all got down there....I held him at the end....I actually felt him pass through me when he left. I told him how much I loved him and for him to wait for me that I would be coming....

We had him cremated. A private cremation (I did not want to mourn the neighbors cat along with my boy). It took a week to get the ashes back...I just wanted to bring him home. Once I did things were better for me emotionally.

I made a huge collage of pictures of all my danes. A tribute to all of them. I printed out pictures and put them in frames around the house. There will be a memorial tree for him this Christmas...

I stuffed a towel in my mouth and screamed until I couldn't make a sound....I cried until tears no longer came. I saw him in his chair...I called his son by his name...I couldn't sleep...didn't want to eat. All I wanted was my guardian, my protector, my friend BACK.....I would have made a deal with the devil if only I could have him back......I know I am not through this...my whole family is crippled by this loss. But I do know that what I am feeling is normal and I am not going to make any excuses to anyone who does not understand this enormous grief.

The love we shared had no beginning and had no end...it was unconditional...I will NEVER be whole again, I know that and in time will be able to accept this and know it was something I had no control over. But not yet. I try to focus on how lucky I have been to have had him in my life. How blessed I was to have had him for as long as I did, and to be grateful for the time we shared together. But for now I need to give myself time.

I have lost many family members, friends and neighbors....people I loved and cared about but outside of the loss of my father nothing has hit me this hard. I refuse to rush through this. I know its going to take time and in time I will become almost human again but it's going to be a long road.

I will take it one step at a time and I will remember him always......I will not defile his memory by being bitter and angry because I don't have him...I will thank GOD everyday for the time we had, the joy we shared and the love we showed to one another.....He will live within my heart and soul forever...Thank you Barabbas for loving me and giving me everything you had.....
Click here to read or post comments
Join in and write your own page! It's easy to do. How? Simply click here to return to Your Pet Loss Stories - Dog Stories - A - C.