Your Pet Loss Stories

'Casey'
by Dottie Moffitt
(Wilder, VT)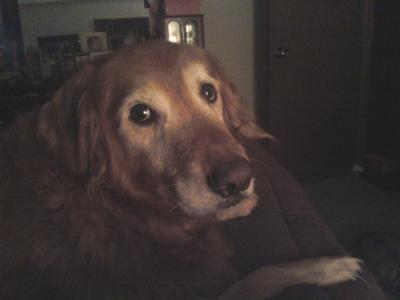 My "old man" Casey Dog!
On November 20th at 12:25am I said good-bye to my "old man" Casey, an eleven year old Golden Retriever. He was diagnosed three months ago with Lymphoma. I saw declines in him during the past few months. He went from eating regular dog food to vet prescribed dog food to me cooking for him. He had days where his energy was depleted and days where I couldn't believe he was actually sick.

He has always been my companion as I work from home so I was blessed to be able to spend almost all of my time with him throughout the years. When I was divorced, when my gram passed away, when I was afraid, when I needed a soft spot to rest he was there for me, never asking for anything in return.

As Casey got sicker he was no longer able to sleep on my bed and so I began to sleep on the floor with him. Most people thought I was nuts but seeing as I was the only one who truly knew what he gave to me over the last eleven years I knew it was the very least I could do for him.

November 19th Casey took a turn for the worse, no longer eating, vomitting and passed a blood clot. At about 8:00pm I knew that I needed to gather my children (ages 16 and 8) so we could say good-byes at the house. I was hoping to have him hold on through the night so we could go to our vet to have him put down. I spoke to the vet on call and she understood my wanting him put down not by a stranger but by a vet that had loved and cared for him.

When he passed the clot I knew in all fairness to Casey dog there was no way to hold onto him through the night. The kids and I drove him to the vets and the vet took the time to talk to us about Casey so that she would know him. Casey always loved laying in doorways on the cool tile or slate entry way. When he got into the vets he layed down on the reception area floor, on the cool tile, and in the doorway. He very much chose his favorite place to be as where he was going to take his last breaths.

The kids and I said some more goodbyes and they were on each side of him petting him, loving him, talking to him and I held his face in my hands looking into his eyes and talking to him as he passed away. He never broke eye contact with me and I know that he was telling me he loved me and thanking me for the past eleven years as I did the same to him.

The last few days have been extremely hard, harder than I ever thought they would be. I miss the sound of him snoring on the pillow next to me, him padding through the house and yes even him knocking over the trash!

I love you "doggers". You will be missed as much as you were loved. Our hearts are broken and empty without you. Thank you for all you brought and all you gave to our family. Your memory will live forever in our hearts!

Love,

Mama, Caitlin (your girl) and Michael (your boy)

God speed Casey!
Click here to read or post comments
Join in and write your own page! It's easy to do. How? Simply click here to return to Your Pet Loss Stories - Dog Stories - A - C.