Your Pet Loss Stories

'My Dogs Killed My Cat, Naya'
by Jean
(Marian Del Rey, CA )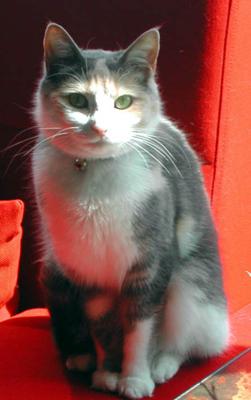 Naya RIP 21st Oct 2008
I rescued Naya as a kitten, at only seven weeks of age. She grew into a petite diluted Calico weighing in at only eight pounds. She was gorgeous with beautiful soft shiny fur and the brightest yellow green eyes. She was an indoor only cat and was my best friend.

Over the course of eight years, Naya was my constant companion weathering storms and celebrating triumphs. At four years of age, Naya and I added a new family member, my husband. And after that, I got involved in animal rescue and my husband and I wanted to adopt a dog. We adopted Indie, a black and white American Staffordshire Terrier about a year and a half ago.

About six months ago, we adopted an American Pit Bull Terrier pup. Both dogs would have been dead without our intervention and we loved their loyal, affectionate personalities. They seemed like a great fit for our growing furfamily.

Naya was never fond of Indie - she didn't trust her but she did like Elvis. I guess I should have paid more attention to her instincts, and my own. See, three days ago I came home to find Naya, my sweet kitty dead, by the paws of my dogs. The sight took my breath away and I thought I was going to pass out on the spot.

I took the dogs and put them in the back yard and I called my husband who was traveling and screamed "THEY KILLED HER!" repeatedly. I was hyperventilating and all he could say was sorry. What else could he say? I then hung up with him and started calling my animal rescue friends because I didn't know what to do.

Ashley was the first person I reached and she immediately came to my home. She had often kitty-sat Naya for me and with two rescue dogs and a cat of her own, she could empathize. I immediately went from panic attack to "I need to take care of this." I didn't know what to do with Naya's body so Ashley said to call my vet.

They told me to put her in a box or wrap her in a towel and bring her in. The vet had a relationship with a local Pet Mortuary so I chose to have her cremated. The hardest part - and I still can't believe I did this - was to pick Naya up and put her in a pillow case and take her to the vet's office. It was so strange, she felt so heavy and stiff - not like my soft slight Naya I knew. That is when it really struck me that this was really happening to me.

When I got home, I had to clean the house. Meaning, that's the way I needed to cope with the magnitude of the situation. It reeked of cat urine and death. The dogs had also had a reaction to what had happened. One vomited on the carpet twice (he's a grass eater, that's how I know) and there was a mass amount of urination in my bedroom although my neighbor had let the dogs out not two hours earlier, and they never made mistakes in the house.

My neighbor, Tia, who loved Naya as well and had often taken care of her for me helped me clean. After a couple of hours, the house had been restored to its normal state. My husband was not home yet, so I sat alone for a bit until another friend, Marie, stopped to keep me company until he got home.

At 31 years of age, and having had experienced quite a few deaths of loved ones, this is singularly the worst feeling I've even had. Not only is my Naya dead, but it was done by two animals I love dearly. It's one thing to grieve for the loss of a pet, but I can hardly look at the survivors. I know I can't be mad at them - logically - but I am. I feel betrayed that with all I've done for them, that they killed her.

Worst, I know I'm at fault. And although I appreciate people trying to make me feel better by telling me I'm not because I am. I knew in my gut not to leave them home unsupervised. Isn't that pet ownership 101? I will never forgive myself for her death, but I will someday forgive them for I know it's their nature and I shouldn't have been careless.

As for grief, I'm trying to work through this on two levels. My grief and anger over her loss, and then reestablishing my bond with my dogs. The first 24 hours, I sobbed uncontrollably. The second 24, I found the worst part was coming home from work and having to be faced with reality and Naya's absence. The third day, today, I only broke down at work a few times but I also feel dead and numb.

I am talking about it with as many people as I can because something good has to come of this. I need other people to know what I did so that they don't make the same mistake. I loved that cat like she was my own child and I know many other pet lovers feel the same way.

I came looking for sources of healing and relief from this intense pain and found this website. I'm thankful that there is a resource like this out there for grieving pet owners because it's too hard to deal with alone.

In conclusion, please say a prayer for my Naya. She was a great cat, my best friend, and now in a better place.

Naya, rest in peace, 10.21.08.



Click here to go straight to Your Pet Loss Diaries 'Naya & Jean'