Your Pet Tributes

'Rocky (AKA Rockin' Dog)'
by Tiffiny
(California)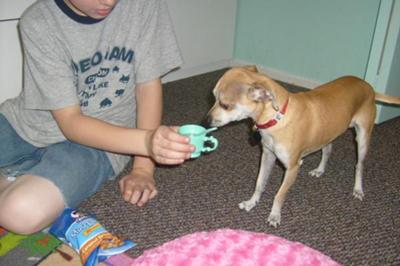 Tea Party
Rocky left us the same day his puppies were being born. He never got to smile at them or lick them or sniff his little boys but they are home with us.

I told the kids you had to go so they would have a home. I told them how you thought they were such wonderful, playful, loving kids that you couldn't imagine your little boys living with anyone else. You knew that only by leaving this world could you secure a place for them in our home, and in our hearts.

I love them very much, my boy, but I miss you so terribly. I look forward to the day they can share a tea party with the kids too. Forever in my heart...Hey Rocky, Where's them babies?
Join in and write your own page! It's easy to do. How? Simply click here to return to Your Tributes P-R.