Your Pet Loss Diaries'Pat & Blue'

My Boy BlueNov 2, 2010
by Pat
(Ontario, Canada)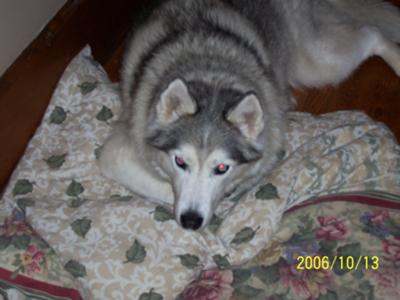 My Boy Blue - December 19, 1994 - September 8, 2009
I haven't written for awhile but I have been thinking about my Blue every day. His picture sits on my desk and on my computers and on the wall at home. I will never stop missing him. I talk of him often - comparing what he did with what the other dogs in my life do. I still find his hair every so often and take it as a sign that he is letting me know that he is okay. I still think about that day and visualize what happened and wish that he was still here.

It may seem strange to people (some with pets and others without pets) that I still feel an ache and still have tears at certain times when memories flood in and take over. But I can't help it - I loved him in life and still love him in death. (I hate to say that word). I know where he is and I would love to be with him but my time hasn't come yet.

It gives me such comfort to be able to write about my feelings and even greater comfort to know that there are many many others that feel the way I do. I read every story about everyone's beloved Pets and realize that our little or big treasures make our lives whole. They give us a reason to get up in the morning.

I am absolutely sure that I will see my Blue someday but until then I will continue to love and cherish his memory.



Click here to go straight to the next page of this diary
Click here to read or post comments
Join in and write your own page! It's easy to do. How? Simply click here to return to Your Pet Loss Diaries - 'Pat & Blue'.