Your Pet Loss Diaries'Pat & Blue'

Thinking of You TodayDec 20, 2012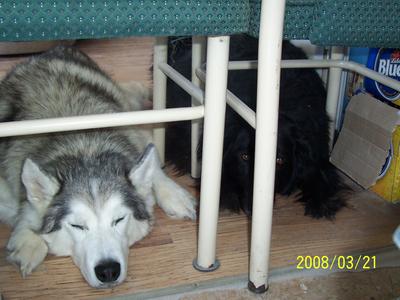 Blue I still really miss you. I have pictures of you all over the house so I feel as if you are always with me. I talk about you often and have fond memories of our times together. Dad and I were just talking a few days ago about when you used to travel with us. Jim reminded me of how you were never on a leash because you just followed him around. What a good boy.

I will never forget you Blue - you are in my heart and soul. I find that I don't understand why I still feel grief and hurt at times and then extreme pleasure when I think about all your antics. What a crazy dog you were! I know that you are running all over the place up there and getting into mischief but I'm glad. Please visit me more often. I found some of your hair not long ago in our old house. Amazing.

I wish you a wonderful Christmas Blue and I know that Santa will bring you the best toys and treats ever. I will talk to you again soon baby - I love you. Merry Christmas.

Love Mom xxxxoooo :) PS - You are Karmy in the picture.



Click here to go straight to the next page of this diary
Click here to read or post comments
Join in and write your own page! It's easy to do. How? Simply click here to return to Your Pet Loss Diaries - 'Pat & Blue'.