Your Pet Loss Stories'Mr Binx My Little Boo Boo'
by Rachel Cuccia
(Tampa, FL)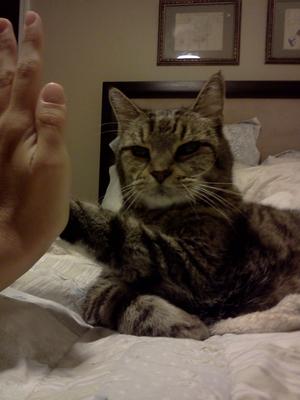 Mr Binx was such a wonderful boy, I considered he and his brother Garfield, who has passed last year, my children. Mr Binx fell deathly ill last summer, he was diagnosed with acute kidney disease. Unfortunately the following week, Garfield passed away from cancer. Luckily, Mr Binx gathered enough strength to keep stay by his brothers side as Mr Binx recovered himself.

I kept Mr Binx pretty healthy with new special kidney food and I couldn't believe how much he had improved. When I returned home from living in NY, I told Mr Binx I would never leave him ever again. He was so lonely, you could see it in his eyes, but when I came home, he was so happy.

Mr Binx again fell ill a few weeks ago. I knew something wasn't right as he just wasn't himself and my father said Mr Binx was laying outside right next to the juniper plant we planted in Garfy's memory. My father right away knew, Mr Binx was trying to tell us something - he was ready to go home with Garfield.

I said NO, Mr Binx will be fine. I took him to our vet, and sure enough, he was on the brink of a relapse. My wonderful vet sent me home with IV fluid that I administered to Mr Binx everyday for a week. Mr Binx started eating again and seemed as though he was coming back to us. The strange thing is however, he started sleeping on the edge of the bed and looking down all the time as if something was pacing back and forth.

The following friday, Mr Binx would not eat his food. I fed him baby food which seemed to help a bit though. I gave him more of his IV even though the vet said we didn't need to because he saw an improvement. Unfortunately Mr Binx began vomiting several times throughout the course of a day and he was restless as he would sleep with me.

We took him back to the vet, who said we should leave him there overnight and he would check on him. We did not get a phone call so I thought great! we are out of the woods and Mr Binx will be home soon. That evening, I could not sleep as I had a severe nauseating feeling. The next morning I told my dad I have a bad feeling about Mr Binx. The vet called and told us Mr Binx took a turn for the worst and there was nothing more we could do. Knowing he would ultimately suffocate from fluid in his lungs, I made the decision immediately to put him down. I knew I had only an hour maybe at the most so I got dressed quick and flew out of the house.

I picked up my baby boy. He was so ill and in pain. I said "See my baby boy, I told you I would never leave you again, but now you're leaving me..." I sat in the room and held Mr Binx, told him how much I loved him, thanked him for loving me throughout the 15 years of his life. I put my head next to Mr Binx and he was gone... I cried so hard, I thought I would pass out. I still don't understand how he could be fine and within hours become ill again.

I miss my lil baby boy so much every day. I find myself calling Mr Binx to bed, as he would follow me every night, I miss his meows, and when I would awake to find him staring at me with his paw on my face.