Your Pet Loss Stories'My Dear Smokey'
by Jeannie Gilchrist
(Franklin,Louisiana)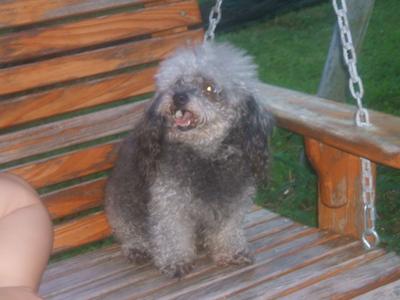 Smokey I Love and Miss You !!
Hi, my name is Jeannie, I had my toy poodle Smokey for 9 years. What some wonderful times my family had with him. I have 2 children 17 & 14, but Smokey was like the baby brother in the family. He was so spoiled after me where ever I went he went too.

In Nov of 06 my Lil Smokey had gotten sick, at that point money was no option to me I just wanted him to get well, because the thought of losing him was unbearable. He went through all kinds of test and was put on med. He couldn't walk on his hind legs. After a few days a friend told my about a spiritual healer. So I then made an appointment. Well, Smokey and I went to see Master Sun and 2 days later he was walking again. I could not thank Master Sun enough for helping save my baby boy.

In Feb 08 I left my Husband. He was a very abusive man. We had been married for 20 years. The day I decided I couldn't stay there anymore I told him I was leaving him. I got our things but he said that I was not taking Smokey. Well, that just tore me up. I tried to reason with this man but he would not give him up to me. The kids and I would have to go visit Smokey at his house.

On Oct 18, 2008 on a Friday night about 9:36pm I recieved a phone call with my ex on the other end . He said , I don't know how to tell you this but I don't think Smokey is going to make it through the night. At that point I just lost it. I was so upset and crying I felt so helpless. I just prayed that my baby boy would be alright. It was like someone ripped my heart out.

I then asked him what happened and he preceded to tell me that he and 2 of his friends were in the house. Smokey was laying in his bed, and my ex went to the bathroom. Well, when he was making his way back into the sitting room the 2 guys was shoving something under the pillows of the couch, and then they ran out the door. My ex Husband went and moved the pillows on the couch and there Smokey was bleeding and couldn't move.

The nearest animal place opened was 1 hour away. I told him to bring Smokey there but that I wanted to see him first. My baby could not see I was there because the way he was laying down when Smokey heard my voice he started crying. I started petting him and looked him crying in his eyes and told him how sorry that I was and that I loved him.

My ex brought Smokey and the next day we had to bring him to his vet Dr. That Sat we met with his Dr. and she looked at Smokey and put him on the floor and he couldn't stand up. The Dr. advised that if he could stand up that he would just go in circles. She also advised that his jaw was broken in 2 places and that he had severe brain damage. My family stayed at the vets offices for 2 hours it was his time to go. I didn't know how to deal with that. Better yet I didn't want to deal with it.

Well my dog passed away. I brought him home and made a grave for him. I was so hurt mad and wanted revenge. My baby was beat to death. As they made the hole to put my baby in I just held him and in the front yard and just cried for like 2 hours. I knew when I needed to let him go but I knew when I do it would be the last time I would get to hold him or see him again.
I got a white tee shirt and wrote on it "People say before you die your life flashes before your eyes, just make it worth watching." I couldn't tell him how much that I loved him and how much I will miss him.

Well, I took the pictures of him and video that was taken with the vet Dr. put on a DVD and went put charges on the 2 guys that killed my little boy Smokey. They went to jail and will go to trial on June 15 at 9:30am. I will make sure that they know how I feel and how much we have lost because they had to be so stupid and kill a 6lb dog, a family's pet. I was told that they will have to pay the vet bills and what I paid for Smokey, but no amount of money will justify what they took from us.

I love the memories that I have of Smokey but I would rather have him. God I miss him so bad, I wonder if I will ever get over this?