Your Pet Loss Diaries
June & Caleb, Louie and Shula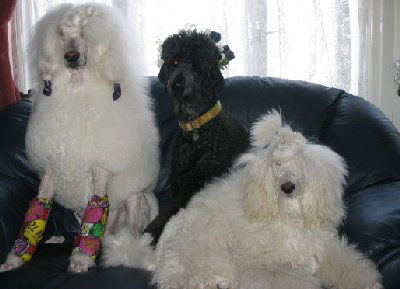 About Caleb, Louie and Shula


My beautiful standard poodles, Caleb 10 years, Louie 13 years and Shula was 5 years. These were my best friends.


When did you lose Caleb, Louie and Shula?


I lost Caleb on the 31st January suddenly to a gastric torsion,then my baby girl Shula left on the 7th May another torsion and then my soulmate Louie passed away with heart failure on the 7th July.


At which stage of pet loss grief do you feel you are currently at? Or how are you feeling right now?


I feel totally lost without my babies my house is so empty, even though I have other babies. I cannot believe they have gone. I want to be with them, to hold them smell them, I just ache.


June and Caleb, Louie and Shula's Story so far


We were soulmates, they were my life. Louie came to me when I had hit rock bottom and he helped me through a really tough time. We did everything together he was like a son to me.
Then when Caleb came I found another who completly hung on every word I said, he was so trusting of me and I him.
Shula bless her heart was a fantastic show girl, last year she produced the most amazing puppies for her breeder and I so wished now I had been able to have 1, but I didn't need a puppy I had my 3 babies and they were all I needed.
Then within 6 months they were all gone... why.. god only knows I miss them so much. There will never be another to take their place, how would I ever compare what we had. I miss you babies please visit x


Click here to start reading this Pet Loss Diary

Click here to see all entries from this Pet Loss Diary


Your Pet Loss Diaries - 'June & Caleb, Louie and Shula'
To add an entry to your diary please complete the form below
Read more diary entries
Click on the links below to read more of 'June & Caleb, Louie and Shula's' Diary
Click here to return to the Your Pet Loss Diaries Index Page





Click here to return to the Pet Loss Matters Homepage