Your Pet Loss Diaries
'Pam & Copper'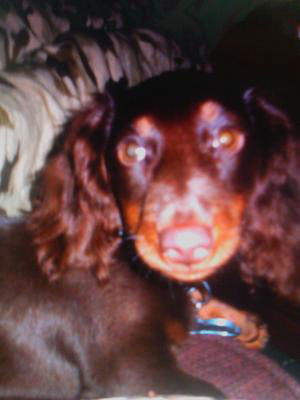 About Copper
Copper,my long hair miniature Dachshund with beautiful brown and light brown highlights. A very rare color for this breed.
When did you lose Copper?
I lost him on November 14, 2012.
At which stage of pet loss grief do you feel you are currently at?
Or how are you feeling right now?
 I'm in the first stages. I don't know what I will do without him on my life.
Pam & Copper's Story so far
I got him when he was eight weeks old. He was the cutest little puppy I have ever seen. He was born in June 2010. We were so happy and snuggled all the time. I didn't have to work so I was blessed to be at home with him.
A family relative let him outside on that awful day and didn't watch him. He was injured by their horse and  passed away before I made it home.
Click here to start reading this Pet Loss Diary
Click here to see all entries from this Pet Loss Diary
Your Pet Loss Diaries - 'Pam & Copper'
To add an entry to your diary please complete the form below
Read more diary entries
Click on the links below to read more of 'Pam & Copper's' Diary
Click here to return to the Your Pet Loss Diaries Index Page
Click here to return to the Pet Loss Matters Homepage