Your Pet Loss Diaries
'Sally & Ellie, Ty & Bud'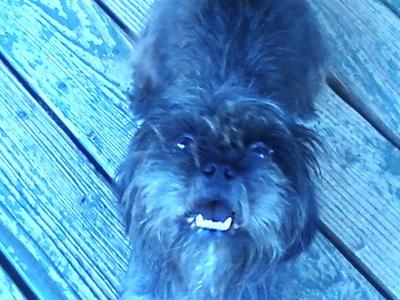 About Ellie, Ty and Bud
I have 3 I'm grieving for, Bud a Wolf/Husky mix lost at 16 years of age, Ty a Persian gray cat lost at 22 years of age and Ellie lost yesterday at 5 years of age a Pug mix.


When did you lose Ellie, Ty and Bud?
I lost Bud July 24th 2007, Ty Sept 18 2009 and Ellie yesterday August 4th 2012.
At which stage of pet loss grief do you feel you are currently at?
Or how are you feeling right now?
I can't stop crying feeling guilty about putting her down even though Iknow it was the right thing to do. I can't lay in my bed it feels too empty and I know it's wrong but I can't pet snoopy her son. I know it sounds bad but I'm thinking why couldn't it have been him instead of her.
Sally & Ellie, Ty and Bud 's Story so far
I found Ellie in my yard July 2006 in the sack almost dead from the heat was 100 plus that day. I rushed her inside, wrapped her in a cool towel and slowly she came around. I ran out, bought formula and a bottle and raised her.
Last year my husband got sick with cancer, Iost my job due to the economy - the end result at 50 we had to pack up and leave Idaho with just her and her son Snoopy. We resettled in New Mexico only because I got a job and was starting to heal from it but last Wed while I was at work something happened.
When I got home I saw she was walking funny, at first I just thought she sprained her leg playing with Snoopy but by Thursday night when i got home she couldn't walk at all, no use in the hind legs. I rushed her to the emergency room, spent my last 200 dollars on her. They said she had a slipped disk, sent me home with steroids and pain meds.
Friday when Ipicked her up a lot of blood gushed out of her rear. I rushed her back, they did an ultrasound and said she was broken up inside bleeding internally. Iknew she was in pain so I made that darn hated choice and now I'm feeling guilty like I betrayed her love somehow and want to be with her again.
Click here to start reading this Pet Loss Diary
Click here to see all entries from this Pet Loss Diary
Your Pet Loss Diaries - 'Sally & Ellie, Ty & Bud'
To add an entry to your diary please complete the form below
Read more diary entries
Click on the links below to read more of 'Sally & Ellie, Ty & Bud's' Diary
Click here to return to the Your Pet Loss Diaries Index Page
Click here to return to the Pet Loss Matters Homepage