Your Pet Loss Diaries
'Jeannie & Rocco'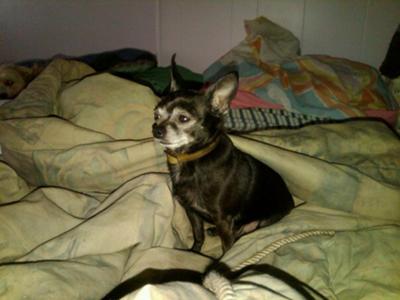 About Rocco

My babies name is Rocco. He is a teacup Chihuahua but thought he was a pit bull :-)

When did you lose Rocco?

My baby passed on his 12th birthday July 31, 2011.

At which stage of pet loss grief do you feel you are currently at? Or how are you feeling right now?


I feel like something is missing from my life. I cry on and off all day and cry myself to sleep every night. Seems like all I can think and talk about is him. I have a huge hole in my heart. I loved that little guy like I love my children and he will be forever in my heart.


Jeannie and Rocco's Story so far


I got him as a puppy. He fit in my hand and from the day I brought him home he ruled our home. He made himself comfortable and from that day forward I was in love. I took him every place I could and he loved going bye bye in the car. We never took any vacations that didn't include him. If you couldn't bring your pet we didn't go.
He made the last 12 years of my life so bright and sunny. Every morning he would come out of his bed and come to me for his good morning kisses and hugs, go out, get a quick drink and back to bed till the afternoon.
He loved his bed and you would never have known he was in it because he was under his blanket and if you got to close he would let you know to back off with a growl or a bark. He didn't like to be bothered when he was in his bed so we gave him his space. Morning is so hard for me cause I miss my doggie kisses so much!!


Click here to start reading this Pet Loss Diary

Click here to see all entries from this Pet Loss Diary


Your Pet Loss Diaries - 'Jeannie & Rocco'
To add an entry to your diary please complete the form below
Read more diary entries
Click on the links below to read more of 'Jeannie & Rocco's' Diary
Click here to return to the Your Pet Loss Diaries Index Page





Click here to return to the Pet Loss Matters Homepage