Your Pet Loss Diaries
'John & Tobi'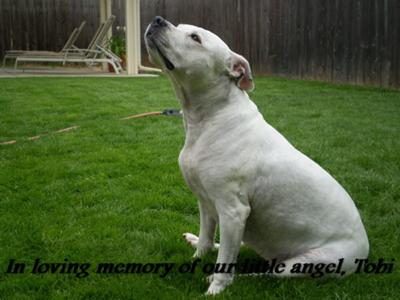 About Tobi

Tobi - my white female Pit Bull.

When did you lose Tobi?

Nov 28, 2010.

At which stage of pet loss grief do you feel you are currently at?

I keep on going in and out of the different stages if that makes any sense.

John and Tobi's Story so far


Tobi came to us on Saturday 13 years ago. We were out visiting all the shelters in San Diego county. I had my heart set on a white Pit Bull and low and behold on our last visit at the end of the day there she was.
A white female Pit Bull about 5 or 6 months they said and she was adorable. I fell in love the minute I saw her you could tell she was going to be a special one. When you stared into her eyes she just had the look in her eyes of a very deep loving soul.
We, also, had a Rottie at the time named Clyde who instantly fell in love with her too. It was great the family was complete a match made in heaven.


Click here to start reading this Pet Loss Diary

Click here to see all entries from this Pet Loss Diary


Your Pet Loss Diaries - 'John & Tobi'
To add an entry to your diary please complete the form below
Read more diary entries
Click on the links below to read more of 'John & Tobi's' Diary
Click here to return to the Your Pet Loss Diaries Index Page





Click here to return to the Pet Loss Matters Homepage