Pet Memorial Poems
'To Love Again'
'To Love Again' is one of the many pet memorial poems which deals with not only the subject of petloss, but also the subject of getting a new pet.
A poem about losing a pet and finding the strength and room in your heart to love another pet, this is one of the poems for pet loss that makes me smile.
It perfectly captures that 'cat' attitude, whereby they take over your house, rip your furniture to shreds but still you love them.
In my case I even had a cat whose favourite hobby was flinging herself at the wall in order to knock off all my pictures and ornaments. Once felled, she would then chew up the evidence.
The cat pictured below is my cat Leggs, who as you can see enjoys hogging the sofa.

But still we love them.....


---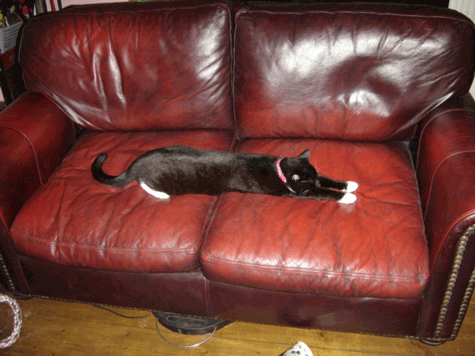 ---
To Love Again
Oh what unhappy twist of fate
Has brought you homeless to my gate,
The gate where once another stood
To beg for shelter warmth and food?


For from that day I ceased to be
The master of my destiny,
While she, with purr and velvet paw
Became within my house the law.


She scratched the furniture and shed
And claimed the middle of my bed,
She ruled in arrogance and pride
And broke my heart the day she died.


So if you really think, oh cat
I'd willingly relive all that,
Because you come forlorn and thin
Well don't just stand there - come on in!



Author Unknown


---
Click here to return to the Pet Loss Matters Pet Memorial Poems - Poems for Pet Loss Index

Click here to go straight to the next of our Pet Loss Poems




Click here to return to the Pet Loss Matters Homepage