Your Pet Loss Stories

'Sarah & Holly'
by Sarah
(Manchester England)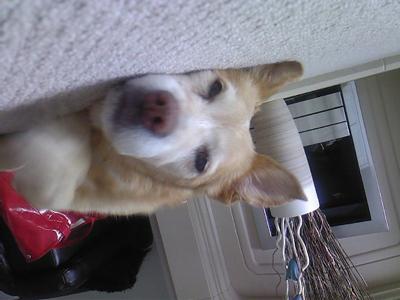 I found my little girl Holly abandoned on the street twelve years ago and could not walk past without doing something.  I brought her home and she never left.


From the very beginning she was the sweetest, most gentle and loving dog you could ever wish for.  I loved her the minute I saw her.  During our wonderful twelve short years together we were inseperable.  She was my best friend and companion. 
Everybody who met Holly fell in love with her, she was funny, timid, cheeky and above all so very loyal.  She followed me everywhere she just wanted to be with me and I encouraged it as I wanted to always be with her too.  Friends would say to me that Holly won the lottery when I found her - I would correct them and say oh no I won the lottery. 
As humans we are flawed but not Holly she was perfect. I think Holly was made for me, it may sound srange to some people but we just fit.  No matter how hard life got and lets be honest we all have our ups and downs I never felt alone - she got me thru those times and I will never forget that, how can I. 
The hardest thing now is getting thru this without her!!!!! What do I.....Holly seemed to be fine, or so I thought until about 6 weeks ago when one evening she had a huge fit at home.  From that night on life for Holly and myself changed. 
I knew it was bad and a couple of weeks after that first fit it was confirmed that she had a brain tumor and the swelling was causing the daily fits she was now having.  I was told that she had a matter of days, weeks or maximum a couple of months.  That period had to be the most painful period of my life.  Seeing my little baby suffering like she was destroyed me and I don't know whether I will ever get over that, your instinct is to protect them but I was helpless. 
A couple of days after the actual prognosis Holly deteriorated even more and went from having one fit a day to six and my vet said that the kindest thing to do was to put her to sleep. That day was the worst day of my life and I'm not sure I will ever get over it. 
Putting Holly to sleep was surpisingly peaceful, she never flinched, the drug worked almost immediately
so maybe she was ready.  I hope so.  One thing that stands out is she looked like my Holly again. I wept like a baby when she was taken from me and struggled to leave the room as I did not want her to be alone.  The guilt of walking away and letting somebody else take care of her was just awful.
I chose to have her individually cremated so knew she would be back with me but that period of her being away was hell. I am so sad and lonely without Holly, she was a huge part of my life, what will my life be like without her, how can it be better!! She was my everything.  I can't get out of my head what if she thinks she has been abandoned again!!!! 
The thought of never seeing her beautiful little face again terrifies and overwhelms me.  We used to lie face to face on a pillow and just watch each other - just me and her - oh how I miss that.  It was love in it's purest form.  So innocent and wonderful.  It's only been 3 weeks since her death and the house is so empty - I had only been here 5 days before Holly had the first fit so its hard to think of good memories of me and Holly here. 
The guilt of letting her go plays heavily on my mind, my biggest fear is did I do it too soon.  Just before the injection she walked over to me and let me stroke her on the head which she had not let me do in weeks.  Was this her telling me she was ok or was this her telling me it's ok to let her go.  I just don't know?
It's the worst decision you ever had to make as your role has always been to protect her from harm and here I am ending her life - that power is cruel and devastating.  How can I end the life of somebody I adore, it's so hard to reason with... I am still in the period of crying everyday - usually when I get home or am in the car alone.  I guess it takes time and time is definitely what I need. 
Friends and family keep saying get another dog, this may help other people but not me as Holly is irreplaceable, it's not having a dog I miss it's HER.
Sleep tight my little Hollywood and we will be reunited again soon. XXXX