Your Pet Loss Diaries'Chris & Silverbelle'

The Next Day26 Sep 2009
by Chris R.
(Alexandria, VA)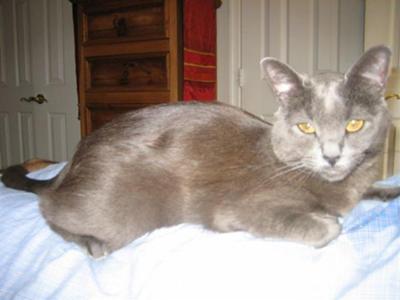 It is 26 Sep 09, and it has been 27 hours since I was told of her death. Both me and my husband did not sleep at all last night. Kept surfing the Internet just to keep occupied. Between crying and figuring out why and what I could of done has simply worn me out emotionally.

I have read some stories on how some animals would come back to visit their owners and wishing this could happen to me. I have another cat named Silvia-Rose who was her buddy. Having to see the cat bury herself underneath the rug because she is depressed breaks my heart. Waking up in the mornings used to be a joy Silverbelle followed by all four others wanting mom and dad up to give them breakfast was a great way to start a weekend morning. Now it is empty silence.

You see this house is no longer a home. This was Silverbelle's house and now we are making the decision to move to another state. Some are reading this and asking sounds crazy? No, you have to know and understand she simply was not an ordinary cat. I always thought she was an "Angel Cat" she had unusally shaped eyes. And I would sometimes wonder where she would be and I would call out and there she would be magically behind me and I would never see her walk in the room.

Now, my little girl is gone and now I know my life will never be the same. I will have her ashes soon and they will be buried when it is my turn to go... I dread each day now she is not here my world is empty and all I will ever do is go day by day because the joy that I knew is no longer here...



Click here to go straight to the next page of this diary
Join in and write your own page! It's easy to do. How? Simply click here to return to Your Pet Loss Diaries - 'Chris & Silverbelle'.