Your Pet Loss Diaries
'Chris & Silverbelle', USA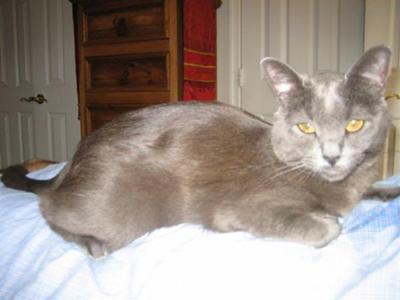 About Silverbelle


Silverbelle who was silver in color was someone who loved to follow me around. She loved to have our kitchen sink on and play with the water. She was a gentle soul who greeted everyone at my front door with her special charm. She loved the Christmas song Silver Bells hence the name.


When did you lose Silverbelle?

I lost my baby in the early morning hours on 25 Sep 09.

At which stage of pet loss grief do you feel you are currently at?

Inconsolable.

Chris and Silverbelle's Story so far


My life with her started in Oct 2002. I went to the local animal shelter to find a companion to our two elderly cats. As I was looking around there was this paw stuck out of the cage as if to say "choose me". I asked if I could have a quick visit. We were in this room and she kept sucking on my t-shirt for comfort. If anyone said that love at first sight does not exist they are wrong because it happened to me.
My little girl would walk me to the door when I would leave for work and would be at the door when I got home. She did not like it when I went on trips especially when she saw the suitcase. At an early age, she had inflammatory bowel disease. So had always been in delicate health. Through the years, we had together there have been ups and downs with her health. When she was sick she would have the saddest look on her face that would simply break my heart. Visits to the vets were a nightmare she hated vets with a passion.
On 13 Sep I had to take a business trip while I was away my husband kept telling me how depressed she was. I cut my trip short to fly back. We were so happy to see each other. From there it seemed her health had went down hill. There was visits to the vet she would come home okay after having meds but the next day she was back to square one. I was a mess did not know what to do. So last night, me and my husband made the decision to have her admitted to the pet hospital. She was weak and as she was put on an IV drip with her cage door opened I simply held her and sung her favorite song Silver Bells.
She was in pain and growled at me a few times. I had been there for almost 3 hours so we had to go home since we had work the next day. As we were leaving my husband noted how she gave us this "look" of sadness as she was saying good bye. I did not pay attention at the time. I went to church last night and prayed for her recovery. The vet called me last night to say she was pretty bad she might now make it. My faith told me otherwise.
I got the call this morning she had passed away and I started crying as if my heart would break. My co-workers thought there was a death in the family. All I told them a relative had died. I did not want to tell them I was grieving for a cat. Me and my husband went to view her body to obtain some sort of closure. She looked as she did the night before lying on her side with her eyes opened. She looked as though she was still alive although her body was cold I started to cry begging her to please wake-up come back to your momma. I felt as though my world came down on me that I have nothing left. So it was hard to leave her but I did.
It is the evening hours, and I am still crying. My other cats are depressed because they know something is wrong. I have a white t-shirt she slept on when she died. I hold it close thinking it might bring me comfort or her back but it will not. My little girl is gone and I simply do not know how I can go on. Although my husband cried to and is understanding I simply miss her and feel a part of me is gone. I know she did not suffer but it does not make my loss any easier.



Your Pet Loss Diaries - 'Chris & Silverbelle'
To add an entry to your diary please complete the form below
Read more diary entries
Click on the links below to read more of 'Chris & Silverbelle's' Diary
Click here to return to the Your Pet Loss Diaries Index Page

Click here to return to the Pet Loss Matters Homepage