Your Pet Loss Diaries
'Shelley & Buck', USA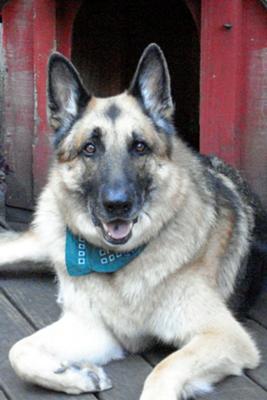 About Buck

My Precious Buck, German Shepherd

When did you lose Buck?

Buck crossed over into heaven on Easter Sunday, April 4, 2010. He was 10 years and 3 days old.

At which stage of pet loss grief do you feel you are currently at?

I am still in the disbelief/sorrow state.



Shelley and Buck's Story so far


I adopted Buck at 6 weeks old and worked tirelessly to keep such an amazing, gorgeous animal with me in the city limits of Atlanta, GA.
I had verbal altercations with two trainers because I didn't like how they were treating Buck and didn't believe I could adopt their practices at home. I resorted to showering Buck with as much love as I could possibly give him. I ended up being an enabler of him. I did the best I could and though I had people warn me that I would have a lawsuit one day, he never, ever hurt anyone to that extent. He was an alpha dog and it was a always a challenge.
I continue to love him, miss him and thank God for him!



Your Pet Loss Diaries - 'Shelley & Buck'
To add an entry to your diary please complete the form below
Read more diary entries
Click on the links below to read more of 'Shelley & Buck's' Diary
Click here to return to the Your Pet Loss Diaries Index Page

Click here to return to the Pet Loss Matters Homepage