Your Pet Loss Diaries
'Tom & Sam'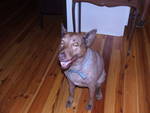 About Sam


Sam's Mom was a German Shepherd/Husky mix, and her Dad was the orange Chow seen jumping over the fence. Sam was a reddish brown with thick fur, a somewhat curly tail and beautiful golden eyes.


When did you lose Sam?


We sent Sam home to God (I hope!) on May 21, 2011. She had lost so much weight and nothing seemed to work to help her regain it. This was the hardest thing I have ever chosen to do.


At which stage of pet loss grief do you feel you are currently at?


I am struggling with doubt about the afterlife, and whether or not I will ever see this beautiful soul again.


Tom and Sam's Story so far


I met Sam the day she was born, and my sister told me she was "mine." What she meant was that I was Sam's human for her entire life. I was Sam's just as surely as she was mine.
She started having seizures in 2004, and was prescribed phenobarbitol. (Toxic!)
In 2011, she dropped 18 pounds in 1 month, and I knew something was terribly wrong. I was going to take her to the "Vet Specialists" to find out what "it" was, and then would have had to make the decision to have surgery or treatment for whatever "it" was.
At 14 years old, I knew that any surgery would be risky enough, and that with the weight loss I did not think she would survive. Had I thousands and thousands of dollars to care for her, I would have. But I didn't. I couldn't do what I wanted to do.
She looked like a survivor of a Nazi concentration camp, she had lost so much weight.
I decided to "put her to sleep" on May 21, 2011. I pray she will forgive me if there was some other course of action I did not consider. This is by far the hardest choice I have ever made. Was it the right one?
Doubt torments me about the afterlife, I have enough questions about my own destiny, but what happens to the animals we love so much? Where do they go? IS there a place for them in God's heaven? Will my doubt keep me out?


Click here to start reading this Pet Loss Diary

Click here to see all entries from this Pet Loss Diary


Your Pet Loss Diaries - 'Tom & Sam'
To add an entry to your diary please complete the form below
Read more diary entries
Click on the links below to read more of 'Tom & Sam's' Diary
Click here to return to the Your Pet Loss Diaries Index Page





Click here to return to the Pet Loss Matters Homepage